How to Add PayPal Donate Button in WordPress? (3 Easy Methods)
Looking for a way to add PayPal Donate Button in WordPress?
PayPal is a very convenient and secure way to accept donations, especially for websites. It is very popular and used by many people all around the globe. Since, people trust PayPal so much, having a PayPal donate button in WordPress will help you raise more funds for your non-profit organization.
In this blog, we will show you an easy way to add a PayPal donate button to your WordPress website. 
Key Takeaways
The PayPal donation button makes it very much easier for organizations to accept donations.
Three different methods to add a PayPal donate button in WordPress.
If you often use quizzes and surveys on your website, try using PayPal Integration with quizzes and surveys.
Why Have a PayPal Donation Button?
Many non-profit organizations add a PayPal donate button in WordPress to raise funds for good causes. The PayPal donation button makes it much easier for them to accept payments and is an easy way to collect money. Even many bloggers have PayPal donation buttons to attract traffic to their websites by giving them a reason to do a good cause. 
You can add a PayPal donate button in WordPress anywhere on your site from the sidebar, footer, homepage, or. Here, we have mentioned two different ways using which you can add a PayPal donate button in WordPress. 
Via the PayPal website
Using a WordPress plugin
Method 1: Via the PayPal Website
Using this method you can create PayPal donate button in PayPal and then you can copy and paste the generated code into your website.
Step 1: Sign Up for a PayPal Account
First, you need to have your own PayPal account. If you don't have one, you can go to the PayPal site and then hit the "Get Started Today" button. Fill out the necessary details and complete the setup.
If you already have your PayPal account, then sign into your account.
Step 2: Generate a Donation Button
Once done with account creation or login, go to the PayPal Fundraising page. Now, you will find a link that says 'Learn about creating a donation button' Click on that and then click on "Create a Button". 
Step 3: Configure Your Button
Now, from here, you can start creating your button. Since we are creating a PayPal donate button in WordPress, from the drop-down box, select the "Donations" option. Now, add necessary details like the name of the organization and donation ID (optional). Customize the text or appearance by clicking on the "Customize text or appearance" button. 
The next step for you is to decide whether you want donors to donate a specific amount or whatever amount they wish to donate. At last, select the type of email address you wish to use. If you use a secure merchant account ID, it will keep your email address hidden. 
Now, hit the "Save button at PayPal" button. After that, there are some optional features that you might want to enable like letting your customers add a special message or thank you note for your work, allowing donors to include their shipping details in case of physical donations, and specifying a redirect URL to send them to once they have completed the donation. 
Step 4: Copy and Paste the Button Code to the Website
Now that you have created your PayPal button, the next step in the PayPal donate button in WordPress is to copy-paste the button code to the WordPress website. 
Click on the "Select Code" option and then copy it. Next, go to your WordPress website and paste the code where you want to show the PayPal donate button. 
And that's how can add the PayPal donate button in WordPress by creating a button on the PayPal website itself. 
Method 2: Using a WordPress Plugin
If you don't like dealing with codes, then plugins are your savior. Use this method to add PayPal payments using a PayPal donation plugin WordPress.
Go to the WordPress admin dashboard and in the sidebar, search for "Plugins". Next, click on "Add New" and then in the search field, search for "PayPal Donations". Download the one published by Tips and Tricks HQ.
Step 2: Configure the Plugin
Now, from your WordPress dashboard, navigate Settings >> PayPal Donations. In the PayPal Account field, enter your email address. Edit the things like the currency, the page style, and the return page.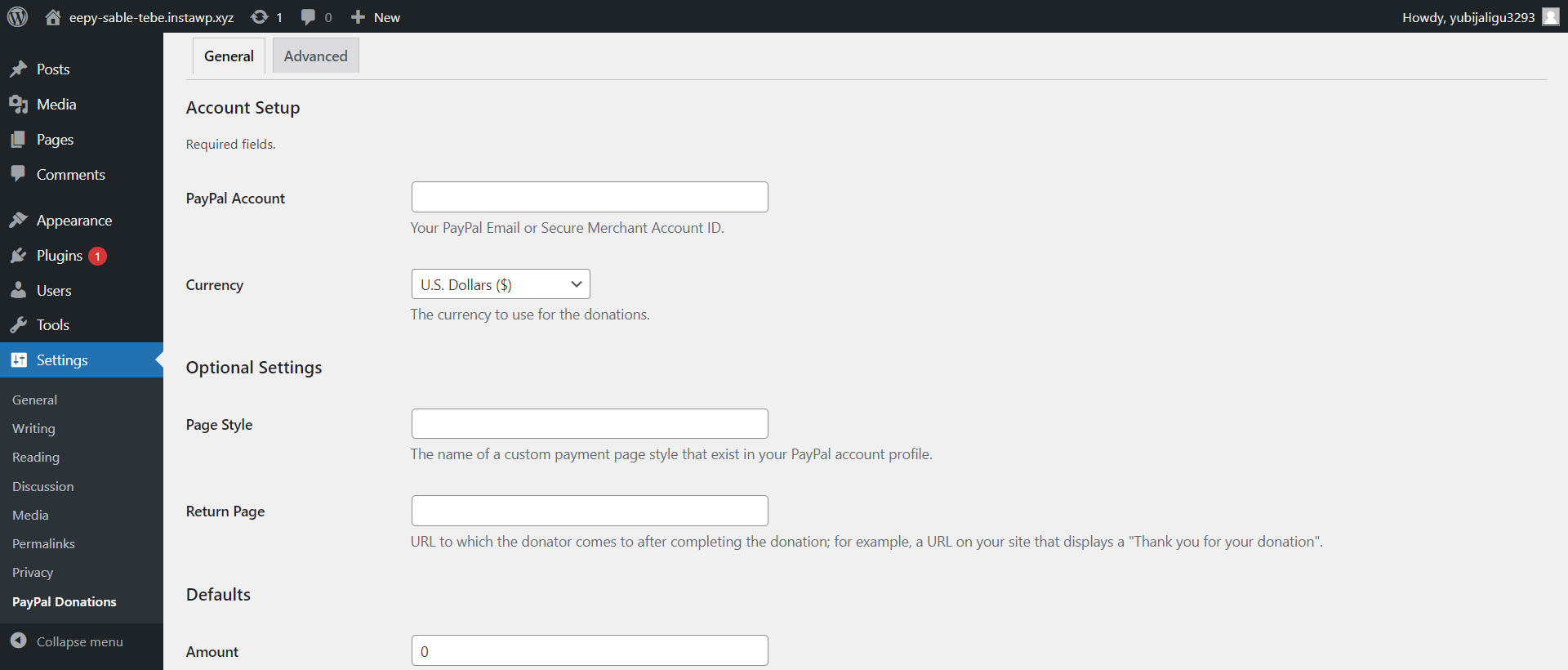 From the Default section, you can let visitors know the purpose of the donation or specify the amount people usually contribute.
At last, choose the appearance of the donation button or you can also enter the URL of a custom button.
Step 3: Add It to the Website
You can add a PayPal donate button in WordPress via widgets. Navigate Appearance > Widgets. Here, drag and drop the PayPal donation widget into the section of your WordPress website where you would like the widget to appear. 
You can easily customize the widget. You can add a title, text, and purpose or you can even leave it blank if you only want a PayPal button to appear.
You can also add via shortcode. Copy and paste the shortcode into the text field or to a plain text widget.
FAQs
1. How do I add the PayPal donate button in WordPress?
There are three different methods with which you can add a PayPal donate button in WordPress. The easiest and simplest is to add a donation button using the "PayPal Donation" plugin. It is free to use and very simple to configure. You can also create a PayPal donation button on the PayPal website and add the button on your WordPress website.
2. What is the best PayPal plugin in WordPress?
WordPress is loaded with good PayPal plugins, but we suggest you use the "PayPal Donations" plugin as it is very easy to use and anyone can configure it in just a few minutes.
Wrapping things up
And that's it for this blog. We hope this blog has helped you add a PayPal donate button in WordPress. Among all the payment methods in WordPress, PayPal is one of the most widely used payment methods. You can even customize the button and make the design inclined toward your theme. 
This was a detailed guide, but if you want more assistance, we suggest you hire WordPress engineers from JustHyre.
If you like reading this blog, also read How to Add a Pros and Cons Table in WordPress? (3 Easy Steps) and How to import and easily export WordPress users? (Exporting WordPress users within 5 minutes).
Stuck Somewhere?
Connect With
JustHyre
Hire WordPress Engineers for custom jobs like Website Customization, SEO Optimization, Clearing a Hacked Website, Installation & Configuration & more.
Connnect with JustHyre