How to Properly Move Your Blog From WordPress.com to WordPress.org? (4 Easy Steps)
Looking for a way to move your blog from WordPress.com to WordPress.org?
Many people start with WordPress.com but very soon they realize its limitations. WordPress.org is a self-hosted platform with a lot of features and customization. WordPress.org offers you greater flexibility to customize codes in all aspects, install plugins to enhance functionality, install themes, and more. 
Here, in this blog, we will show you an easy way to migrate from WordPress.com to WordPress.org. But before that let's have a look at why you should do the migration and the things which you will need before migration.
Key Takeaways
WordPress.org offers more flexibility than .com.
Before migration, first sort the hosting plan, domain name, and WordPress.org installation.
Steps to migrate mainly include exporting content from .com, importing data to .org, and a few things to take care of.
Why Should You Migrate From WordPress.com to WordPress.org?
Since you are here, you have already thought about migration. But, let us tell you a few crucial reasons why you should move from WordPress.com to WordPress.org.
WordPress.org gives you more flexibility to edit and customize your content than WordPress.com. You can easily customize your code and all aspects of your website. WordPress.org allows you to install plugins that can enhance the functionality of your site and make your work a lot easier. You can make your website look more aesthetic by buying WordPress premium themes.
WordPress.org has no limits like WordPress.com and you can turn your website into anything you like. WordPress.org helps you scale your business and make money from your website. WordPress.com has limited SEO control, limited analytics, and ads that are forced on its users. So, if you are planning to make your website more professional, migrating from WordPress.com to WordPress.org is a no-brainer.
Related: 10 easy steps to build a WordPress site
Things You Need Before You Start
If you are ready for WordPress site migration, you need to put a few things in place.
WordPress hosting plan
WordPress has an ocean of hosting companies but not every hosting company will suit your needs. You need to find a hosting provider that meets your requirements. For more details, read a blog on finding the hosting company of a website from wpHow.
Domain name registration
Once you sort the hosting company for your website, you will have to figure out the domain name registration. Most of the hosting providers offer free domain name registration.
Keep a professional domain name as it plays a very crucial role in the success of your website.
Install WordPress.org
Many hosting providers also provide one-click WordPress installation. But if your hosting provider doesn't provide you, then you will have to log into your hosting account and look for the WordPress icon. Now, when you click on it, you will see some prompts which will help you with the installation.
This will also help you set up the website's title and configure the username and password for your WordPress dashboard.
Once you figure out all these 3, you will be ready to move from WordPress.com to WordPress.org.
Steps to Convert WordPress.com to WordPress.org
Step 1: Export your existing WordPress.com content
The first step is to export all your existing content from WordPress.com. For that, you will need to sign into your WordPress blog and go to your WPAdmin. Here, search for the "Tools" category and select "Export".
If you don't want to pay $129 for a guided transfer then click on "Start Export" on the automatic export side of the screen.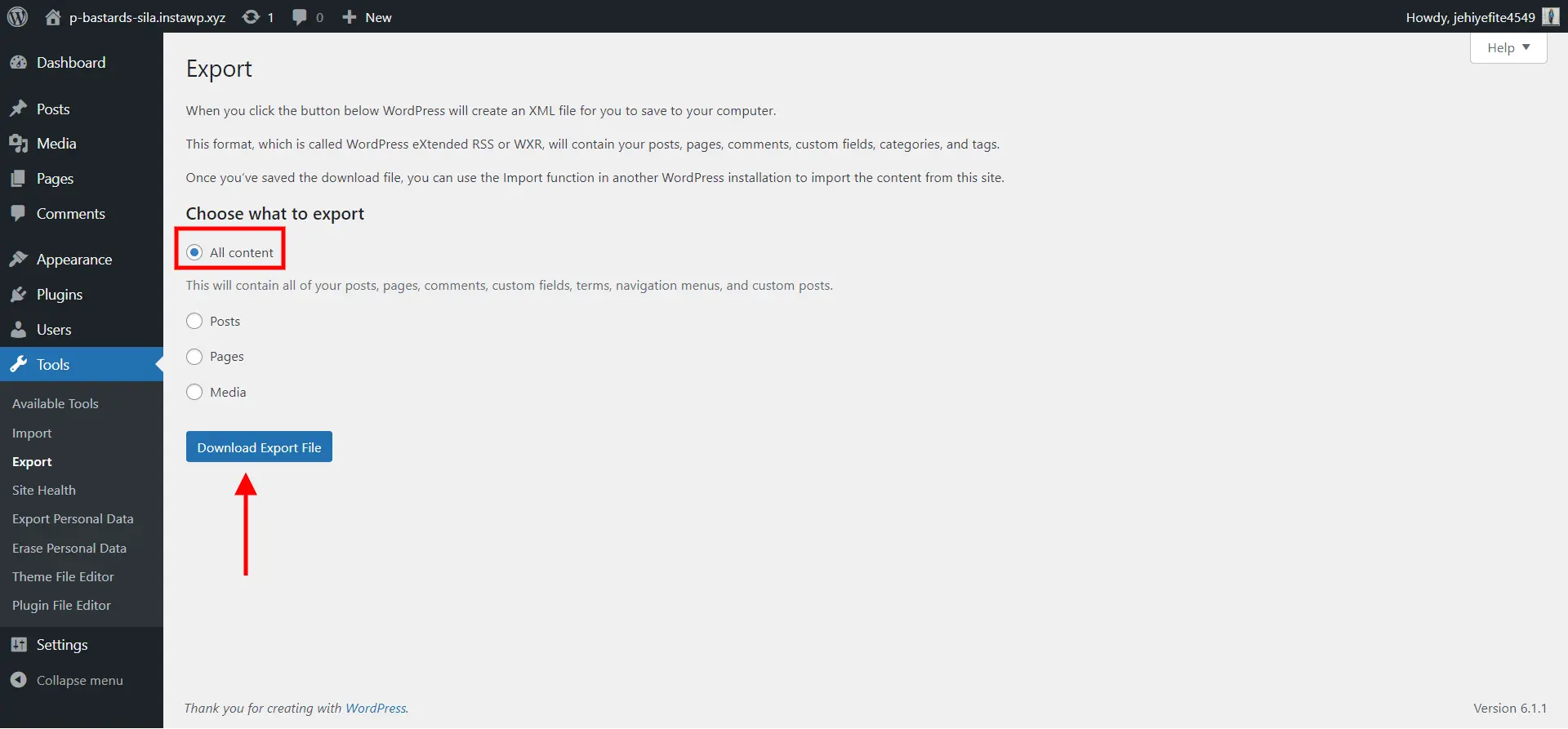 Now, make sure that "All content" is selected, and then hit the "Download Export File" button to download the .xml file. This file contains all your posts, images, navigation, menus, and more.
Step 2: Import the content into your new WordPress site
Here, you will need to install WordPress on your own host to continue. Now, from your new WordPress, log into wp-admin. Navigate to "Tools" and then click on "Import".
Here, you will have to install the official import plugin for WordPress. Hit the "Install Now" link and WordPress will automatically start to install the plugin. Once the plugin is installed, click on "Run Imported".
Now, you will find an option to upload the exported file from the last step. Click on the "Choose File" option and then upload the exported file. Now, hit the "Upload file and import" button.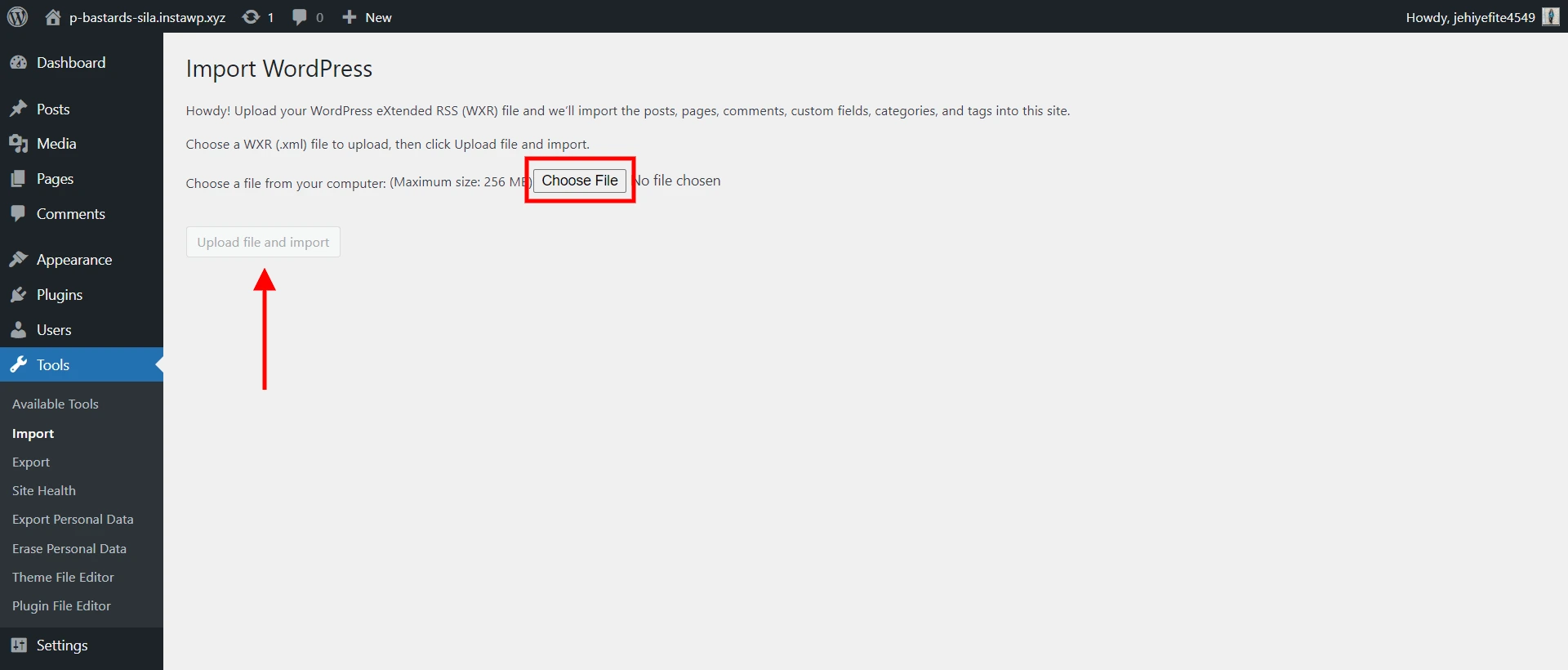 But before your content gets installed, you will need to configure the authors for your WordPress website.
It has three options for you to choose from;
Create the same author as on your WordPress.com site.
Assign all the imported content to a new author
Assign all the imported content to the already existing author profile.
Don't forget to check the "Download and import file attachment" box as it will keep your posts from breaking. Once you complete all the steps, click on the "Submit" button, and the WordPress migration will start. It might take a while depending on the size of your content.
Step 3: Check the site for any errors
Follow all the above-mentioned instructions to avoid any errors. Once your import is completed, go through all the content and check if all the content is in its place.
If you have any missing pictures from your content then, you can use a plugin like an Image Teleporter to import your old photos.
Step 4: Redirect your WordPress.com to your WordPress.org site
Once you are assured that all your content has been imported successfully, you can now redirect your users from your old WordPress.com site to your new self-hosted site. This will maintain your search engine rankings and any links to your old website will redirect people to your new website.
You will have to pay a small price for this migration. For that, you need to go to the WordPress.com Site Redirect page and enter your new domain name in the box.
FAQs
1. How to migrate from WordPress.com to WordPress.org?
Follow the below-mentioned 4 steps:
1. Export all the content from the previous site
2. Import the data to the new website
3. Check for errors
4. Redirect from the old website to the new website.
2. What is the difference between WordPress.com and WordPress.org?
WordPress.com is a quick and easy way for any beginner to get started but for more customization and better monetization, you should use WordPress.org.
Wrapping Things Up
And that's how you can easily move from WordPress.com to WordPress.org.
Though are some concerns which you might have to look into. Like migration process won't bring your theme to the new site. For that, you will have to install and activate the same theme on the new website as well. You can use the Jetpack plugin to bring many of the WordPress.com features.
Other than that, it is very simple to migrate from WordPress.com to WordPress.org. You don't need to pay even a single penny for migration other than a small redirecting link fee.
If you like reading this blog, also read How to Choose the Best Blogging Platform? (3 Minutes Read) and How to Add a Calculator in WordPress? (5 Easy Steps)
Stuck Somewhere?
Connect With
JustHyre
Hire WordPress Engineers for custom jobs like Website Customization, SEO Optimization, Clearing a Hacked Website, Installation & Configuration & more.
Connnect with JustHyre