How To Remove Categories In WordPress? 4 Easy Steps
For proper management of posts on your WordPress website, you need to have different categories. In this guide, you will get to know the various steps to remove categories in WordPress.
Other than just management, it also helps readers find the content they want to read quickly on your website. So, have you created many categories which are not useful to you, and then it's better to delete them?
Before you get to learn about deleting categories, you need to know how to add a category on your WordPress website.
Every WordPress site comes with a default category named "Uncategorized."
But that doesn't specify content on your website. To add new categories, follow these steps.
Step 1: Log in to your WordPress Admin Dashboard.
Step 2: Click on Posts and Select Categories.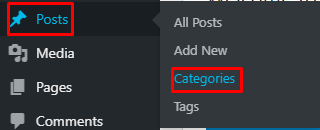 As of now, our website has only one category, "Uncategorized."
Step 3: To add a new category on the left side, you will see Add New Category. Create several categories.
Now we have new categories.
How To Remove Categories In WordPress
After adding new categories, it's now time to learn how to delete them quickly. You can either delete one at a time or all of them at once.
Additionally, you will get to learn how to delete the "uncategorized" category.
Now on Dashboard select Posts then choose Categories.
Let's delete the Android Category.
Step 1: Put your cursor on Android, and below the category, you will see several options. Choose Delete.

Step 2: You will see a notification on your browser informing you will delete the category (Android) permanently.
Step 3: Select OK to continue.
You have successfully removed the category.
Deleting Multiple Categories
To delete multiple categories, do the following.
Step 1: Select those you want to delete. by checking the boxes before the categories you want to delete.
Step 2: Click on Bulk Actions and choose Delete.

Step 3: Click on Apply to delete the categories.
After doing so, you will have removed the categories.
Uncategorized is the default category for every new WordPress website. But can you delete it? Yes, it is possible.
All you require is to set another category as your default category.
Step 1: To do that, go to Settings>Writing.
Step 2: Change Default Post Category from Uncategorized to Windows 10.
Step 3: Scroll down and click on Save Changes.
Step 4: Return to Categories, and now you can delete this category.

That way you will have deleted the uncategorized categories from your WP website.
Conclusion
Hope you have learned how to remove categories from the WordPress website. Thanks for your time.
Watch this video to know more about How To Remove Categories In WordPress?
Stuck Somewhere?
Connect With
JustHyre
Hire WordPress Engineers for custom jobs like Website Customization, SEO Optimization, Clearing a Hacked Website, Installation & Configuration & more.
Connnect with JustHyre