How to Create a WordPress Maintenance Plan? (3 Easy Steps)
Want to learn about WordPress maintenance plans?
WordPress has a lot of moving parts. As a website owner, managing all those can be overwhelming and time-consuming for you.
A WordPress maintenance plan helps you to break down the different maintenance tasks into manageable steps. This allows your website to function at its peak performance all the time.
Here, in this guide, we will show you how you can easily create a WordPress maintenance plan.
What Is a WordPress Maintenance Plan?
WordPress maintenance plan, also referred to as WordPress care plan, is a packed service that is used by a WordPress website owner to maximize his or her revenues. It is a checklist of all the WordPress tasks that monitor the health of your WordPress website. It comprises of service packages such as backups, security insights, plugin and theme updates, migration, and support among others.
How to Create a WordPress Maintenance Plan?
Here are the three simple steps of crafting a perfect WordPress maintenance plan.
Step 1: Service Selection
The first one is to choose the services you want to provide. Make a list of services that are in demand and define the options of the website maintenance plans you want to offer. Think about your customers and what you have to give.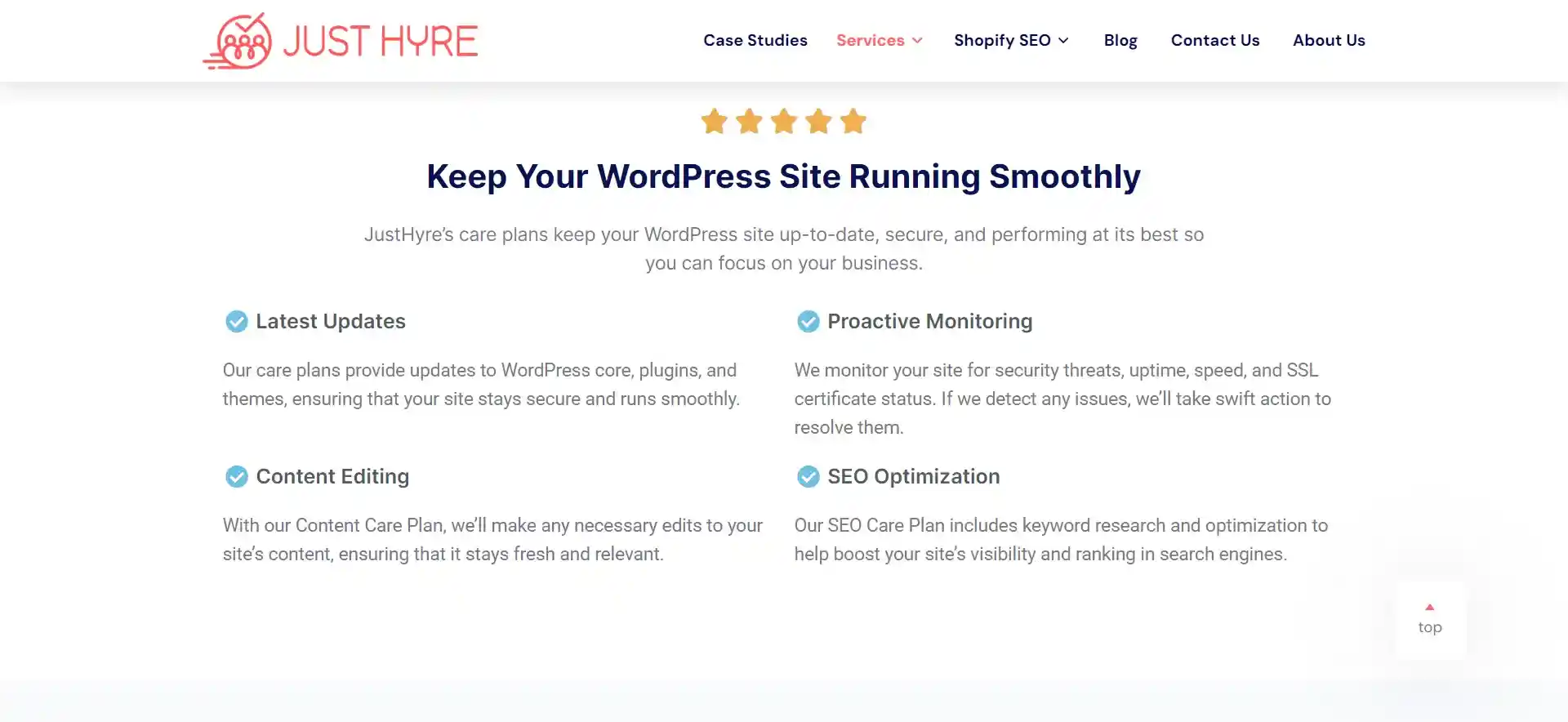 Some of the services to consider in a WordPress maintenance plan.
1. Patching WordPress, including core, plugins, and themes
Regularly updating WordPress components guarantees the safety and proper functioning of the client's site. You could also add services such as WordPress core, theme, and plugin updates to avoid difficulties for the client and ensure the proper functioning of the websites.
2. Regular backups
Frequent WordPress website backups minimize the site-down effect. By taking regular backups, your users will be able to access and restore the data at the time of any vulnerability.
3. Security services
Given that hackers often target WordPress websites, it would be great to incorporate into your package a powerful security service. Ensure you have implemented the firewall, SSL certification, WP security plugin, and constant emails, notifications, and warnings about the site's security.
Want to know how you can test WordPress security? Read, How to Test WordPress Security? (Easy 2 Minutes Read)
4. Technical support and troubleshooting
However, your clients are likely to be nontech experts who may need technical aid to resolve the problems. Website care plans can be sent via email, live chats, support tickets or even voice calls.
5. Performance and uptime monitoring 
Through performance optimization, you can help your clients uplift their user experience, and improve their conversion rates and search engine rankings. For performance tests, you can use tools like Google PageSpeed Insights, which identifies issues like slow speeds and poor uptime and also offers solutions to resolve them. 
If you own a business and looking for a way to create a free business email address, read How to Create a Free Business Email Address in 5 Minutes?
6. Content management
If you have a large team and resources, then you can offer to update your client's web content. These services include updating old blogs and pages and writing new product additions and coupon codes for e-commerce clients.
7. Malware removal 
This is an advanced feature that you can add as a part of the WordPress maintenance plan. Many consumers are worried about cyber-attacks, and killing malware is a long-term job. Adding this facility will definitely need time and money to take care of it as you aspire.
Step 2: Craft Service Packages
Once you decide on the service you need to offer and package them into different bundles. This is an important stage as it helps you to meet the requirements of various users with various budgets. When developing the bundle, you should consider aspects of support frequency, extent of support, and security.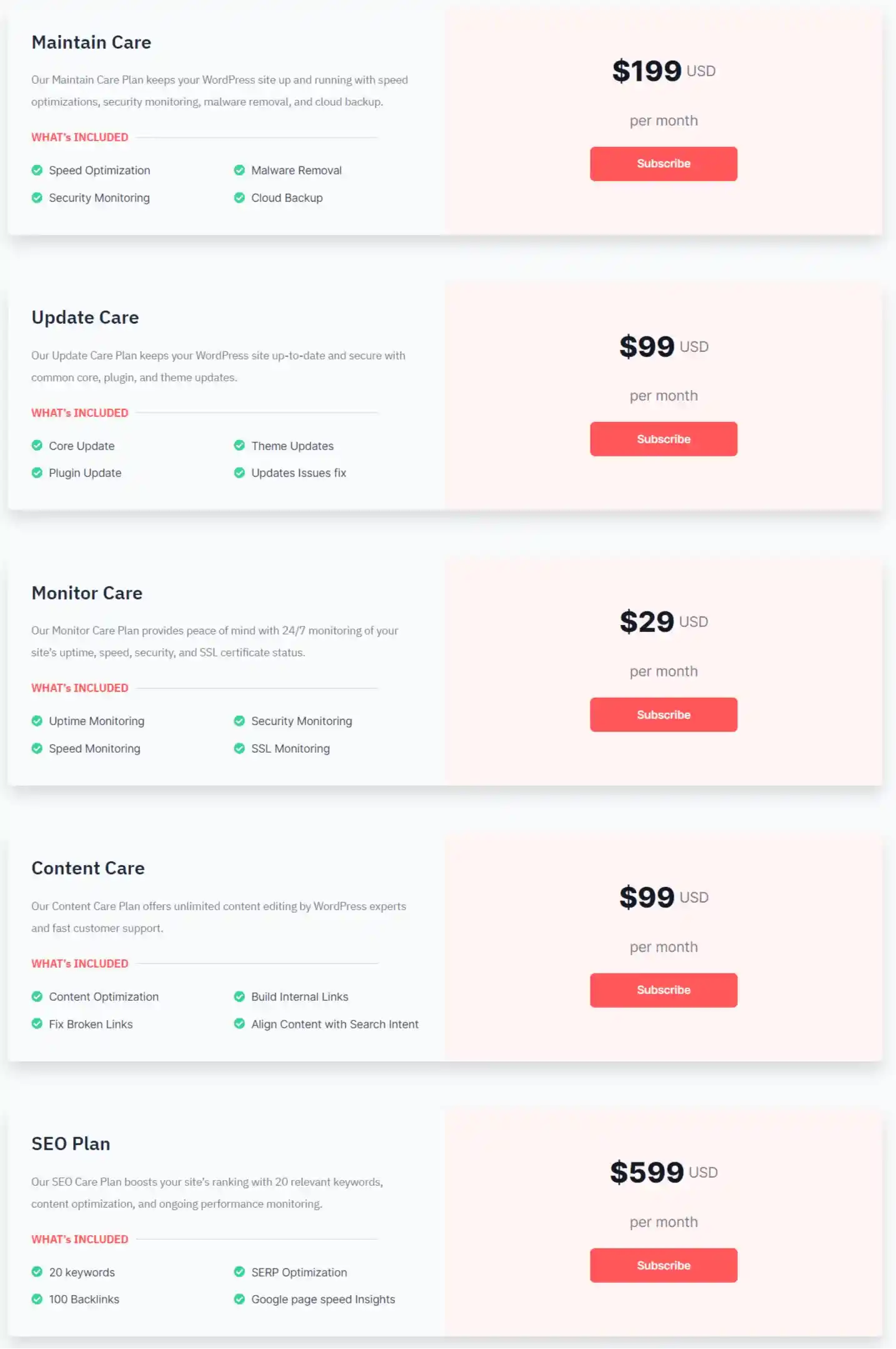 You also have the option of selling each item as a single service. In addition, you can group all the services to be referred to as 'all-inclusive'. This will enable you to reach a wider audience, whose needs you will be able to address. You can create different plans like:
1. Basic plan
Monthly updates and backups are some of the services he will provide for you.
2. Standard plan
Such as more frequent updates, uptime monitoring, and a faster response time for support.
3. Premium plan
For the extra services, this could include daily backups, real-time security monitoring, and priority support.
Step 3: Set Your Prices
Lastly, you will have to set the prices of your services. Pricing your WordPress maintenance plan benefits you and your subscribers. You need to consider the following factors while determining the pricing strategy:
1. Costs
Compute your operating expenses, which include software licenses, security tools, salaries, stationery, and so on.
2. Market Research
Research on what other players offering at what cost.
3. Value Proposition
Sell the uniqueness of your value by mentioning such things as faster response, better security tools, or any other supplementary service.
4. Customer feedback
Request feedback from existing clients and determine what aspect of the WordPress care plan they like the most.
5. Testing and adjustments
Be prepared to adapt your pricing strategy as your business grows and accumulates new knowledge.
Tips on Smoothening the Process of Selling Website Maintenance Plans
1. Identify Potential Clients
Know your audience—understand the specific demands and budgets of potential clients to properly adapt your offers.
2. Value Communication
Explain clearly how your services save time, decrease hazards and improve user experiences. For believability, provide examples and testimonials.
3. Pricing Transparency
Present clear, transparent pricing with several plan alternatives to meet the demands of varied clients. Pricing that is competitive assures attractiveness and profitability.
4. Determine Support Priorities
Provide prompt customer service for questions and problem resolution. Client satisfaction leads to loyal consumers and referrals, which boosts business success.
5. Demonstrate Expertise
Use informative information and tools to demonstrate your knowledge. Being recognized as an expert in WordPress maintenance fosters confidence and attracts clients who value your expertise.
In a Nutshell
Before creating a WordPress maintenance plan, do detailed research about your target audience, and their needs and assess your own resources to figure out what you can provide. Make sure you give competitive prices that benefit both you and your customers.
Maintenance plans are an easy way to build recurring revenue for your business. We hope this guide has helped you in your journey of creating a WordPress care plan. '
If you like reading this blog, also read our detailed guide on 4 Easy Ways To Add Admin User in WordPress and 5 Best Strategies to Add Amazon Links to WordPress.
Stuck Somewhere?
Connect With
JustHyre
Hire WordPress Engineers for custom jobs like Website Customization, SEO Optimization, Clearing a Hacked Website, Installation & Configuration & more.
Connnect with JustHyre