How To Add PDF Download Button Using Elementor? 6 Easy Steps
Are you looking for an easy way to add a PDF download button using Elementor? wpHow is here to help you.
Sometimes, you might need to add PDF to your content for things like a lead magnet, terms, and conditions, restaurant's menu, application form, or likewise. It's very easy to add a PDF download button using Elementor on a WordPress site. Since a PDF Download button links to a PDF file therefore before creating such a button, we must have our PDF file in the WordPress Media library. You can either upload your PDF file to WordPress Media Library first or leave this step if it already exists.
Check out this video that explains how to add a download pdf button using Elementor.
This how-to guide contains steps by which you can add a PDF download button using Elementor. So, without further ado, let's get started.
Steps to Add PDF to WordPress Library
Step 1: Add PDF to WordPress Media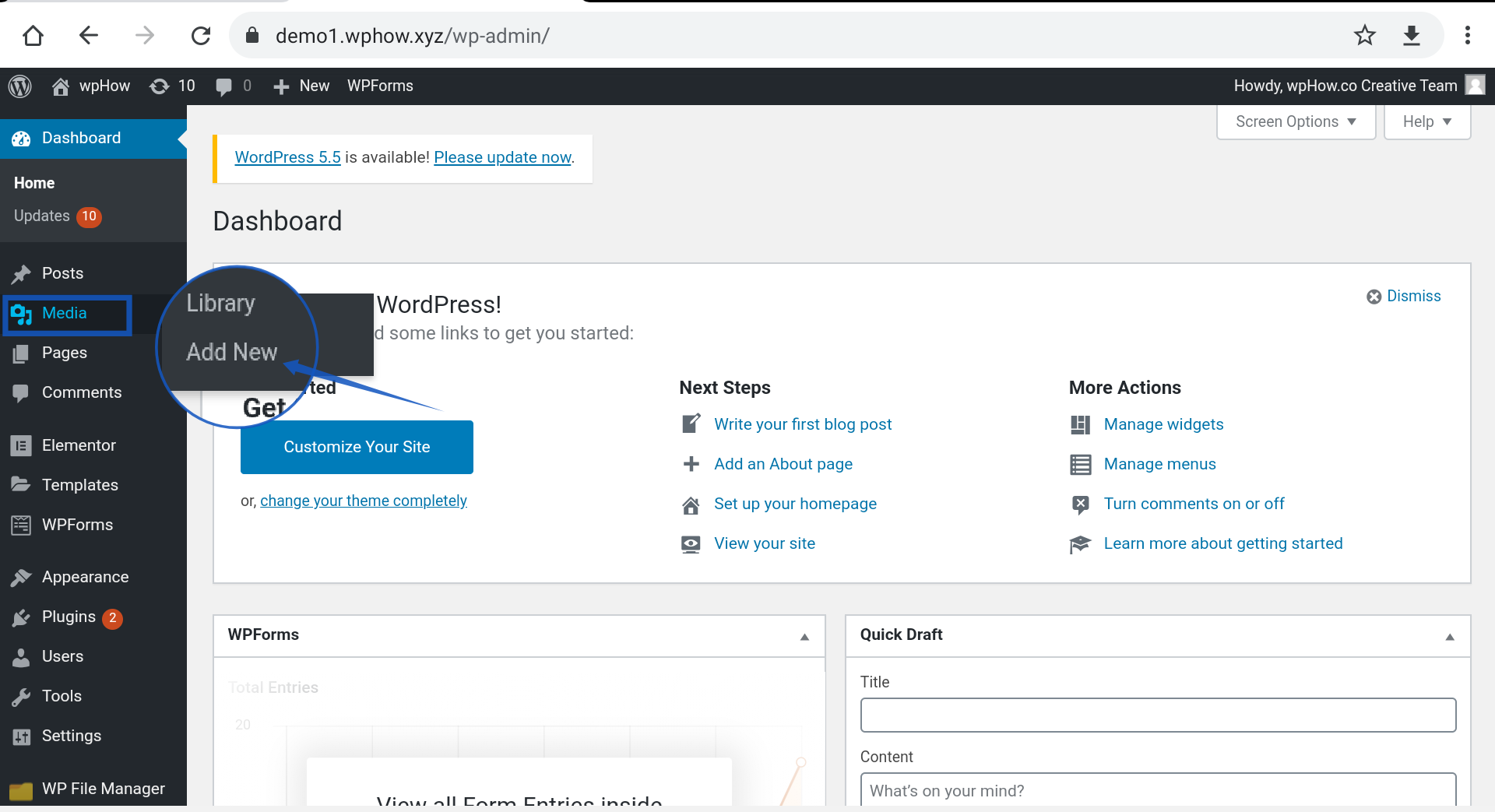 To add media to your WordPress library, go to Media > Library > Add New. This will bring up an Upload New Media Screen.
You can also add a responsive PDF button on your WordPress website using the Responsive Menu Plugin. For a detailed guide on this topic, read How to Put a PDF Menu on a Responsive WordPress Website
Step 2: Select Files To Upload
After clicking on the Select Files button, you will be able to upload a PDF file from your computer to WordPress Media Library. Here we have uploaded an example PDF wpHow.pdf file to WordPress Media Library.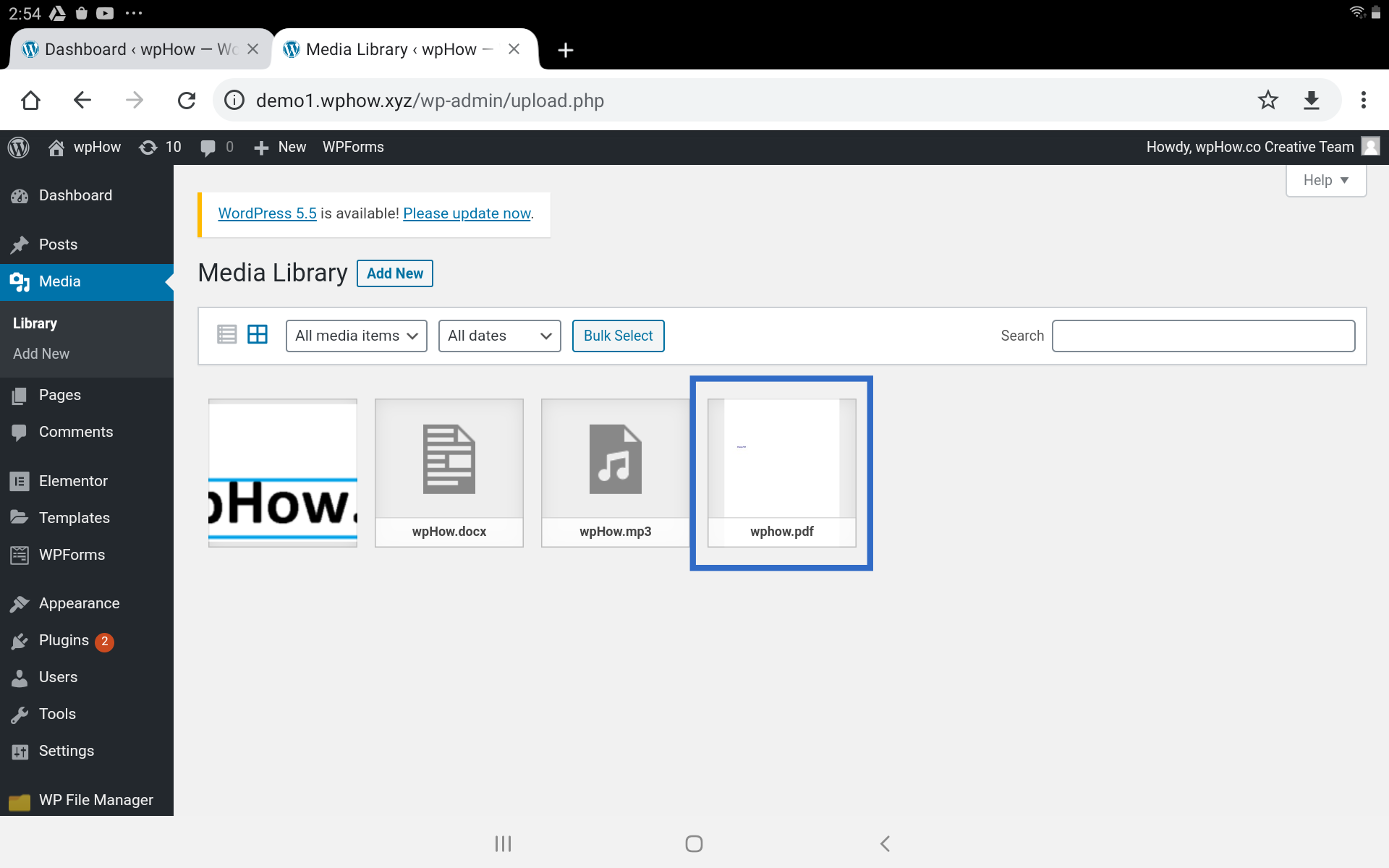 Step 3: Copy the PDF Link.
The next step in WordPress download PDF is uploading a PDF. Since PDF Download Button needs this PDF file link to be attached to it, therefore we will use this link when we will configure our PDF Button using Elementor.
As you select the PDF file it will bring you up to an Attachment Details page, Right Hand Side panel of the Screen comes with a Copy link option.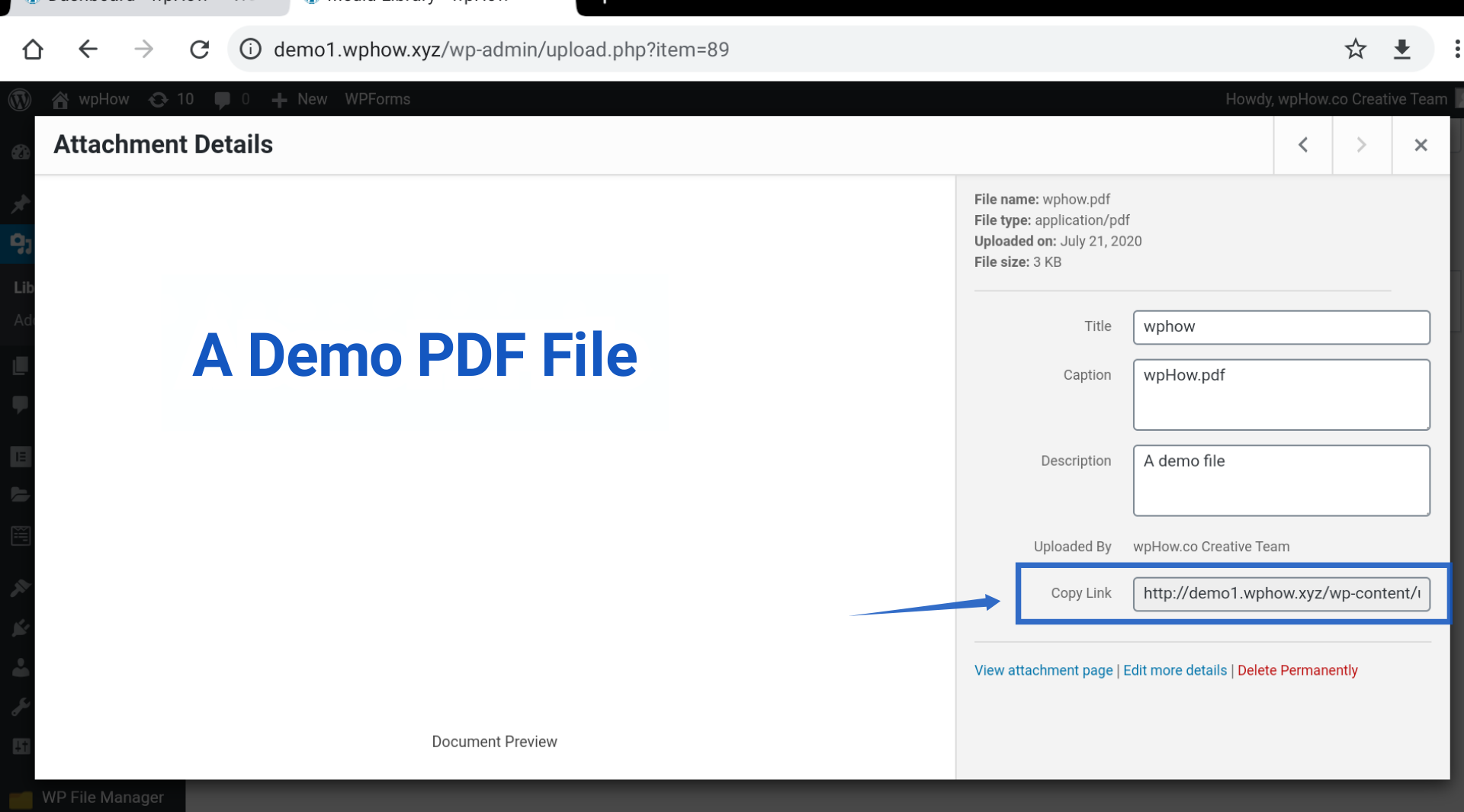 Now it's time to add a button using Elementor.
Step 4: Edit With Elementor
You can either create a new Page/ Post or make use of an existing one to add a Button using Elementor. To bring up Elementor click on Edit With Elementor option.
Step 5: Drag and Drop Button
From Left Side Panel select the Button and using the Drag and Drop interface of Elementor drop it to your page.
Now you can directly change the name of the button and when you select the button, Left Side Panel will show you the Button settings. See the image.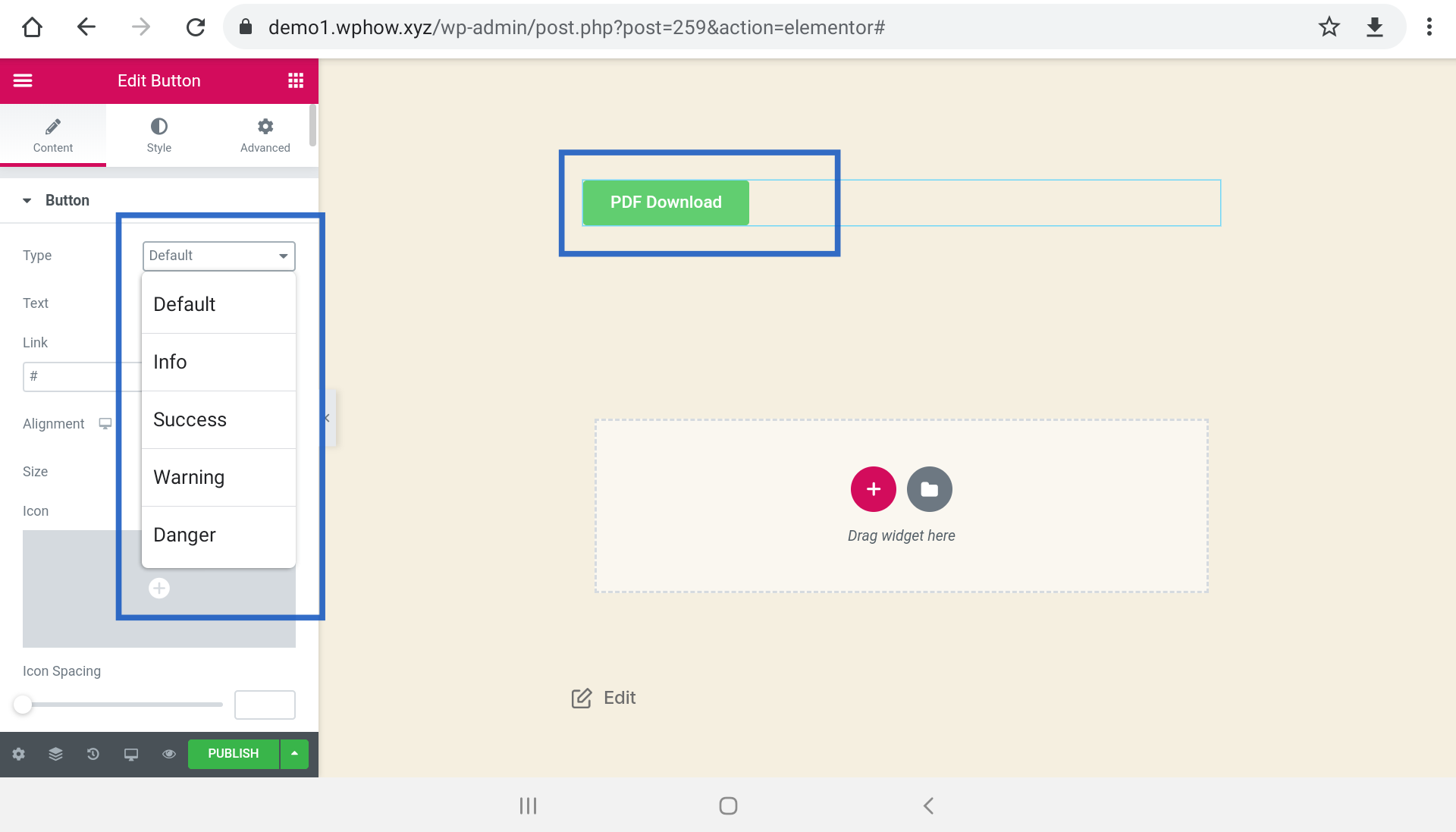 Edit Button Screen comes with its Tabs, here options from Content Tab are shown.
Step 6: Add Link
Type option can be set to different Button types as shown in the figure above. There is an option link where we have to paste the PDF link we already copied. See the upper section Copy the PDF Link.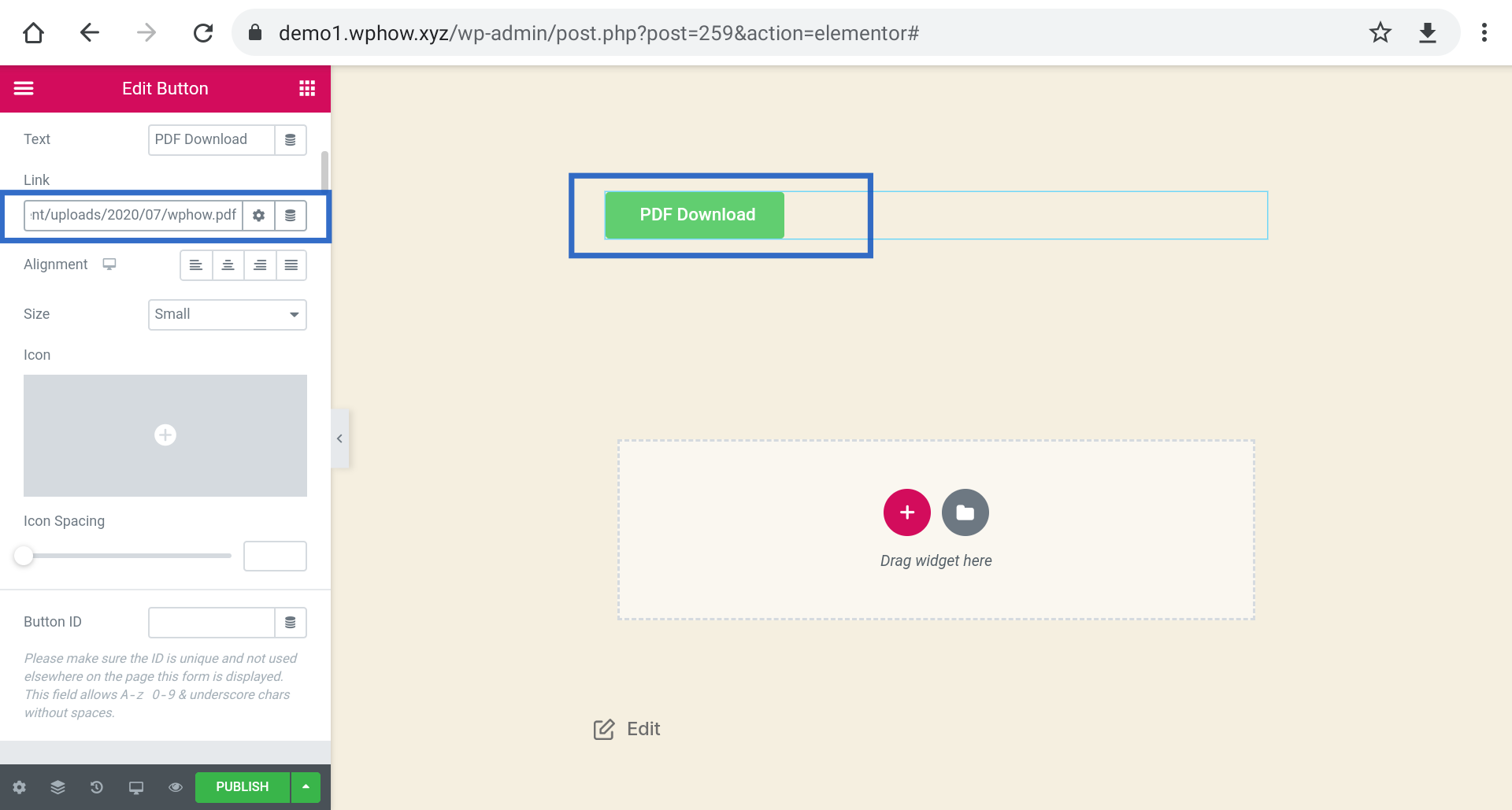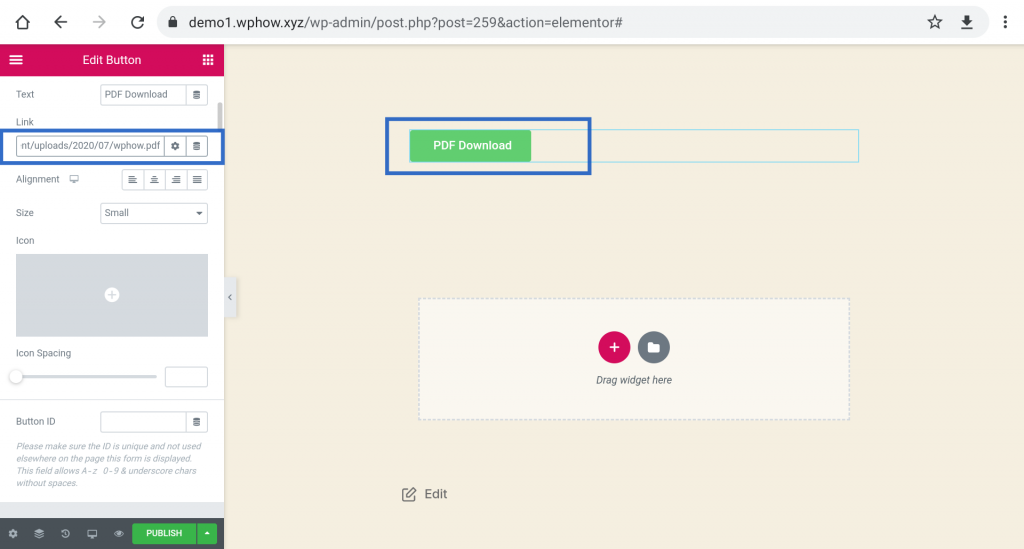 After publishing the post you can easily open the PDF file in your Browser Windows by clicking on PDF Download Button and downloading it to your computer.
Wrapping Up
And that's the end of this blog. We hope this blog has helped you to add a PDF button using Elementor. Adding a PDF button with Elementor gives you access to various customization features. Elementor is an amazing visual website builder that can level up your website visual game with advanced styling, layout, and editing.
If you like this blog, also read our step-by-step guide on How to Add a Surprising WordPress Background Image in 5 Minutes. (Easy Methods), 5 Best Strategies to Add Amazon Links to WordPress and 5 Best Strategies to Add Amazon Links to WordPress.
Stuck Somewhere?
Connect With
JustHyre
Hire WordPress Engineers for custom jobs like Website Customization, SEO Optimization, Clearing a Hacked Website, Installation & Configuration & more.
Connnect with JustHyre