How To Add An Easy WordPress Language Switcher? (2 mins read)
WordPress is now the hub of digital marketing and digital web-based portals where you showcase yourself or your business. WordPress offers a lot of customization, including a WordPress language switcher.
WordPress is currently the biggest web service provider when it comes to customization, and you can customize everything on WordPress depending on your needs and the task you are doing. It is currently a hub for web-based services because of its affordable and interactive design pattern.
Why should You Choose WordPress?
It's an open-source system, which also allows you various customization. WordPress is free when it comes to certain limitations. WordPress allows a user to use it in their particular way, which means that it is made for everyone.
The learning curve for WordPress is quite easy and intuitive.
The community is convenient and there are several portals where you can get help regarding the same.
Various plugins allow users to support a proper web portal that also helps them with overall tasks and user-based work. 
Now, when it comes to WordPress we can also create a multilingual page easily without any trouble. WordPress websites can easily be converted into multilingual websites through the WordPress language switcher which we will discuss in this article.
A fact for you is that WordPress houses around 35% of the websites around the globe right now and with a database that big it also allows you to work on various languages around the globe as well. In this article, we will tell you how to create a WordPress multilingual website and we will also tell you different plugins for WordPress language switchers so you can choose the one that is best suitable for you.
What Is A Multilingual Website?
A multilingual website is a normal website but with this feature, your website will be converted to a resultant website with the language that your user wants. The content and other data remain the same, just the language and grammatical description of that language change accordingly. There are various methods to create a multilingual website through WordPress language switcher but in this article, we will tell you about a couple of them. 
Why Do You Need It?
There are various reasons one might add while telling you an advantage list over multilingual websites and one of the most important ones is your user accessibility. A multilingual website is accessible to various people with different religions and languages. Creating a WordPress language switcher-based web portal won't create any kind of language barrier and will provide a mark user experience.
Plugins For WordPress Language Switcher
When it comes to plugins WordPress is a hub for millions of plug-ins that can allow you to boost your search engine optimization and even allow you to create a decent-looking web portal easily within a few seconds. When it comes to plugins for multilingual websites we have three plugins that are best suited according to us and that can create an easy thorough process. 
Translate Press is a smart plugin for creating a multilingual website for WordPress.It is also considered to be one of the best translation plugins for WordPress on the current market because it provides an easy user interface and also provides better solution management when it comes to other plug-ins on the same list.
Now there are various methods a website or a web page allows Owners to create multilingual pages and some of them are to create a multilingual page of the same page and then upload it so that your users can drift through various languages. Firstly you have to install the plug-in and if you have any queries related to this you can always check out How to install a plugin in WordPress.
After doing this you can go and activate your plugin and use it without any hassle. 
Firstly, you'll have to go and do all the activation through the plugin menu on WordPress. TranslatePress also allows the live editors to allow a much better visual range of your website.
Now make sure that if you want to change your language to more than one then you'll have to install another plugin called the "Extra Language" addon. You can easily download the addon through the account settings. You can also activate the plugin easily just like any other plugin.
After doing all these things you'll have to go to the license tab and you'll need to enter the license key into the same. After doing all these things you'll need to go and save your changes.
After all these things you'll need to go and get to the TranslatePress Settings. In the settings tab, you'll have to choose the default language and also mention the language desired. You can also customize the display settings for the language option. You can also change the language in the URL. Make sure your language doesn't affect the SEO settings. 
Links and custom links can also be changed throughout by the Force language in custom links"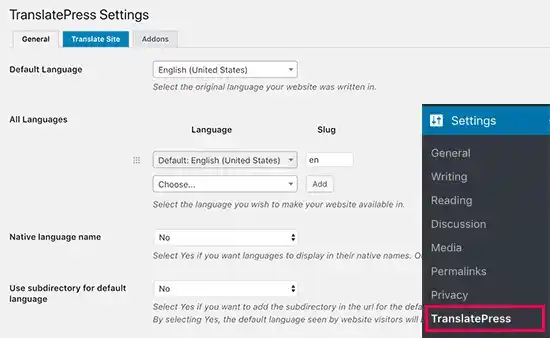 After all these settings you can go and check the Google Translate API key. You can also get the link for the same in the plugin settings. After setting up the data and saving everything you'll need to go and check if it's working or not. 
You can save and check if your website is checking and changing all the language settings you might need.
You can also create multilingual WordPress pages through WPML which is a short form for WordPress multilingual which is one of the oldest and most highly-rated WordPress plugins. WordPress multilingual plugin is easy to install and activate and you can always go and visit or article on how to install a plug-in and check various easy methods to install a plugin.
Coming to the topic, the WordPress multilingual plug-in is easy to use and set up and you can easily go and allow your website to change languages depending on various countries. There are various kinds of countries mentioned on the list and you can directly go and tick mark the country you want Your website to respond to.
Polylang is another word press-free multilingual plugin and it has also been downloaded more than five lakh times thus you can trust it and it also has various happy users. Polylang is a highly-rated website and can easily be installed and activated. If you use WooCommerce then you need to get a premium plan and that might cost you a bit. 
Conclusion
In short, Yes creating a multi-lingual web portal helps boost the overall User experience and also helps us with various client bases too. These WordPress language switchers are easy to work with and can get you results with easy setup and usage.
Stuck Somewhere?
Connect With
JustHyre
Hire WordPress Engineers for custom jobs like Website Customization, SEO Optimization, Clearing a Hacked Website, Installation & Configuration & more.
Connnect with JustHyre