How to Delete Comments in WordPress? 3 Simple Methods
Do you feel troubled by spam and unwanted comments on your WordPress? Want to delete comments in WordPress? Are so many comments pending your approval and do you want to bulk WordPress delete all comments? This article will save you valuable time and demonstrate many simple methods by which you can bulk delete comments in WordPress, disable comments, and shield your post from spam comments.
Comments are a great way to keep your website engaging with the audience. But sometimes, spam comments and unwanted comments also hamper the quality of your posts. Therefore, it's advised to delete all spam and unwanted comments from WordPress to avoid damaging your user experience and your site's SEO.
How to Delete Existing Comments In WordPress?
There are so many ways by which you can delete all pending comments. In this article, we'll demonstrate methods by which you can disable recent comments, bulk deletes all pending comments, and prevent spam comments.
Disabling Comments for Recent Posts
1. WordPress has a way to disallow comments for your recent posts. For that, open WordPress Dashboard clicks on Settings, and select the Discussion option.
2. Uncheck the option of allowing people to submit comments on new posts which is under default post settings.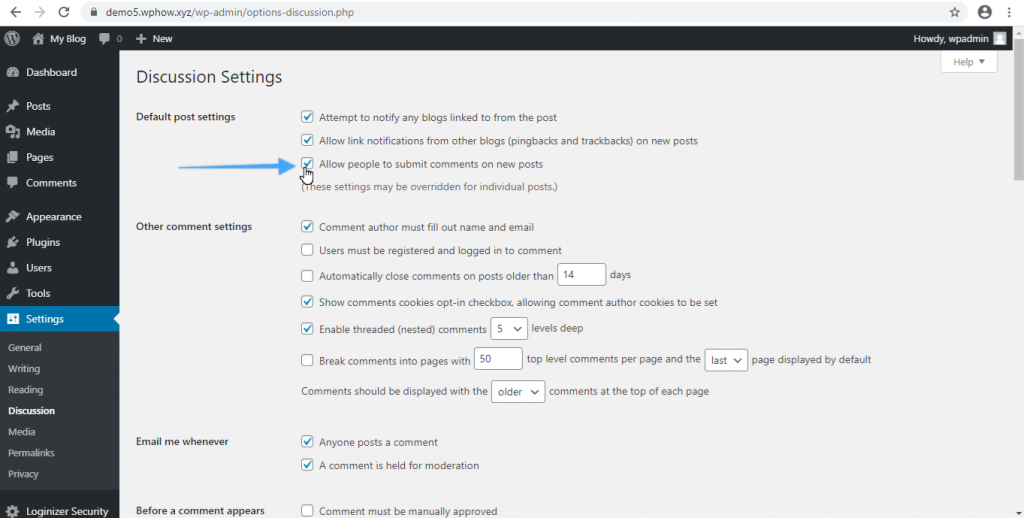 After Unchecking, scroll all the way down the page and click Save Changes, it'll turn off the comment section for any recent blog and articles published on the site. Remember, it won't delete any comments from previous posts or articles.
There's also another way by which you can turn off comments for posts and pages of your site.
1. Go to the Pages section of your WordPress Dashboard and click on the Edit option as shown in the image.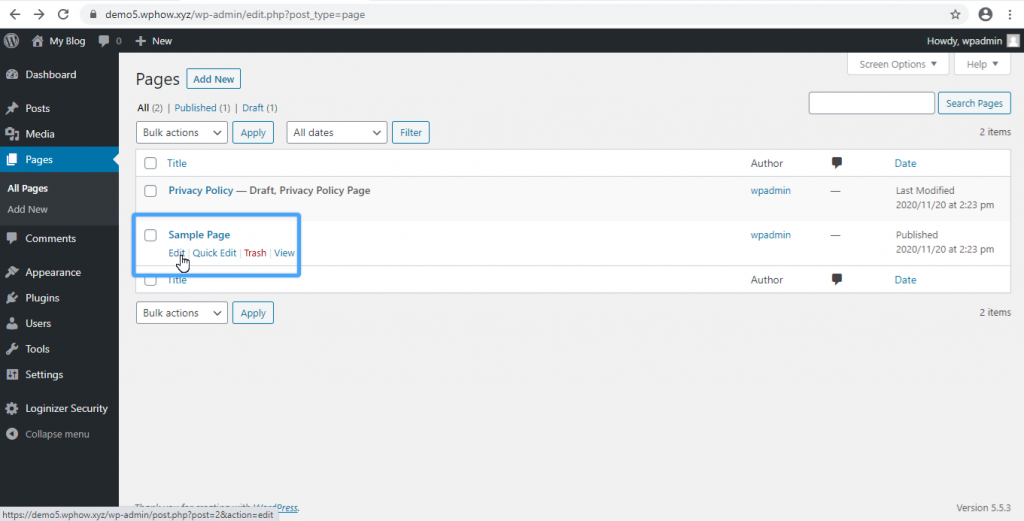 2. Go to the Document Section and click on Discussion Tab, uncheck Allow comments to turn off the comments section from the page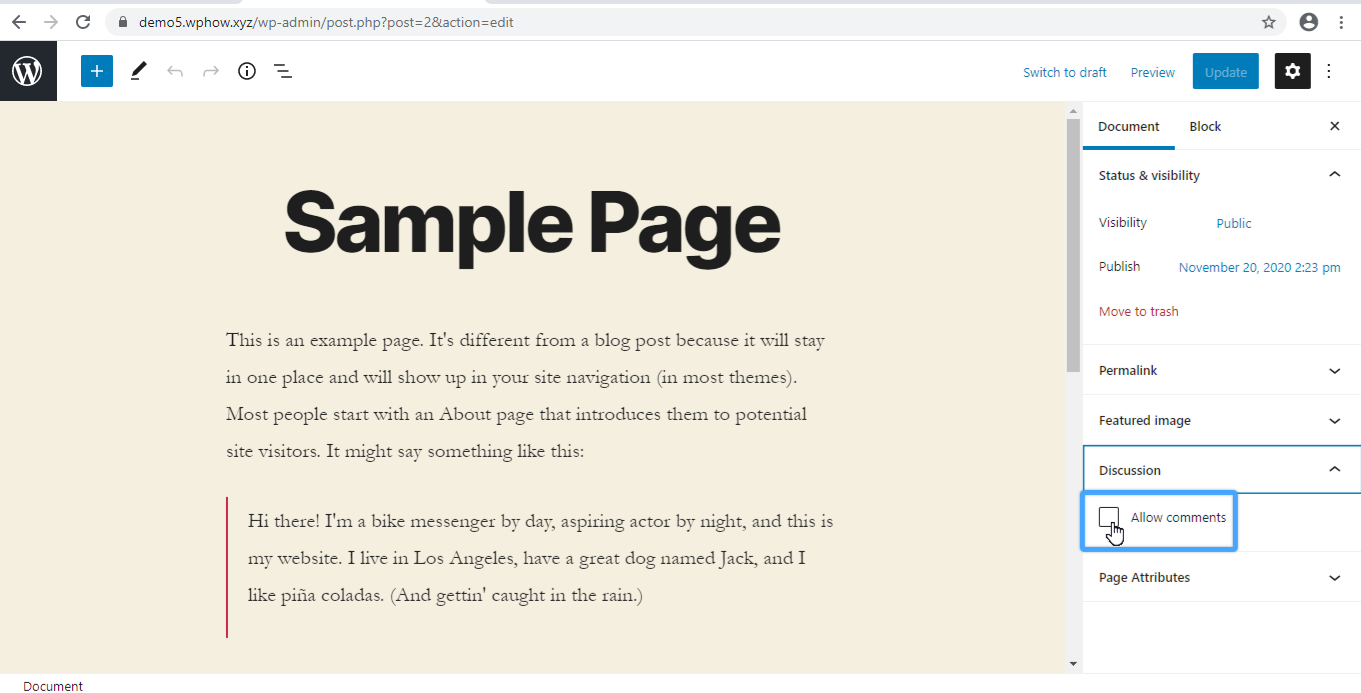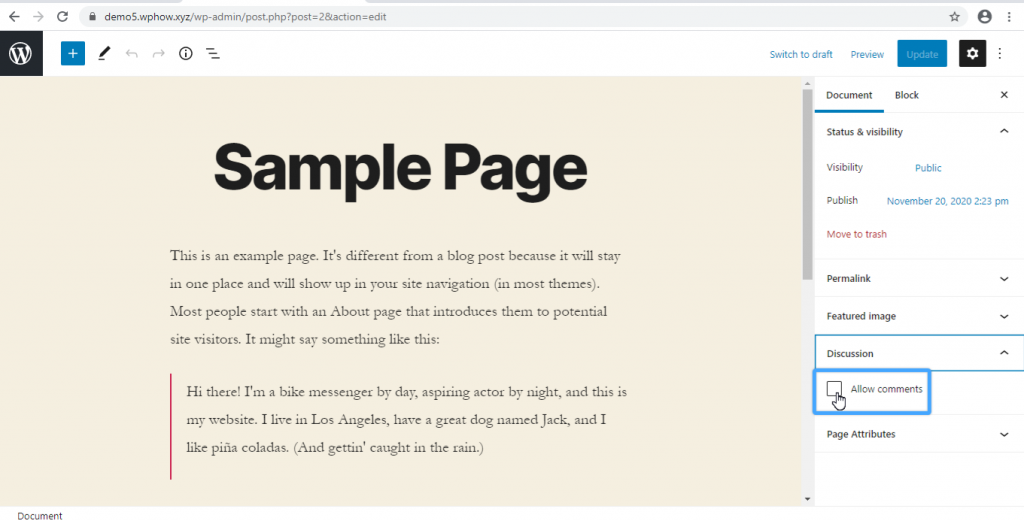 Deleting Bulk Comments Using WordPress Dashboard
Now we'll learn how to bulk delete comments from your posts and pages using WordPress Dashboard.
1. Go to Your WordPress Dashboard and click on the Comment section of the Dashboard. You can either select comments that you want to Delete or click on the Author section to bulk delete all comments. After checking the Author section, click on Bulk Actions and select the Move to trash option. Press Apply to move all the comments to your Trash section of the Dashboard.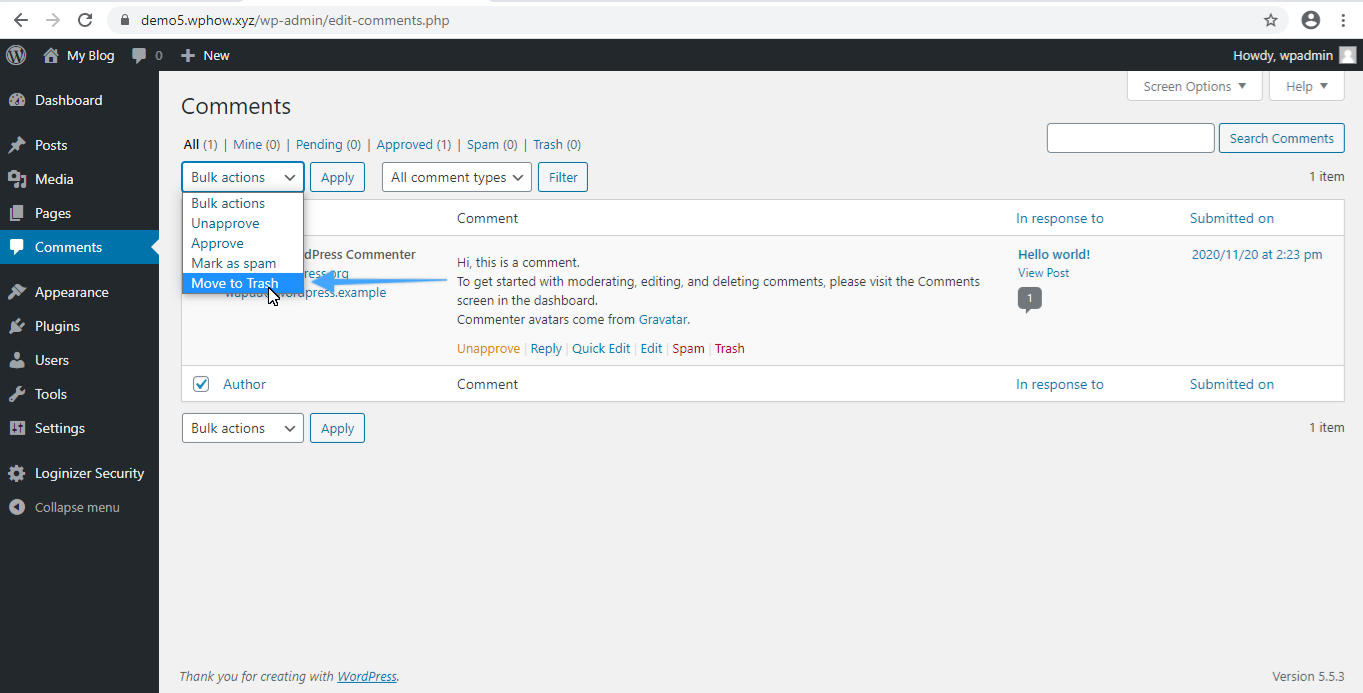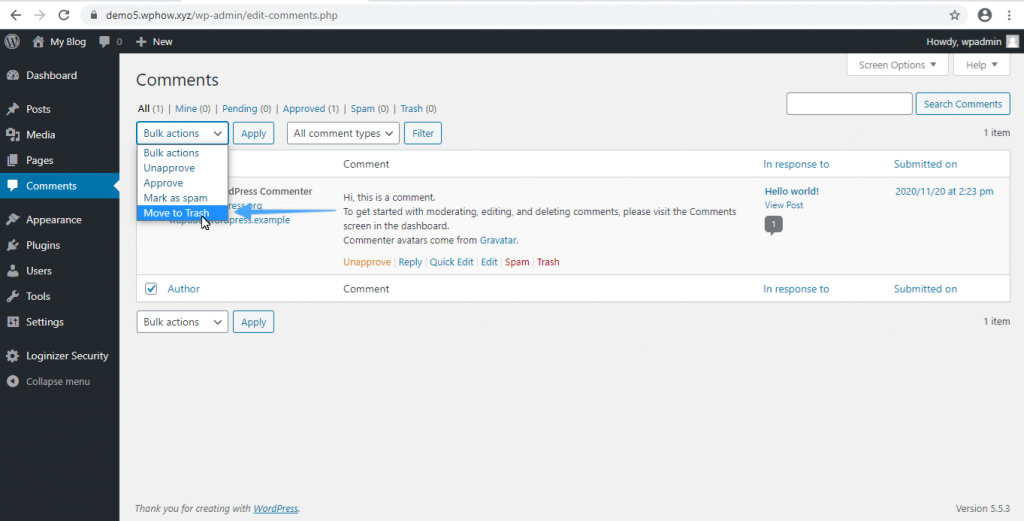 2. If You want to permanently Delete all the comments from your trash bin. Go to the Trash Section of Comments and check/click on the Author tab and go to Bulk Actions, then select Delete Permanently option as shown in the image below. Select Apply option to Permanently delete all the comments from your Site.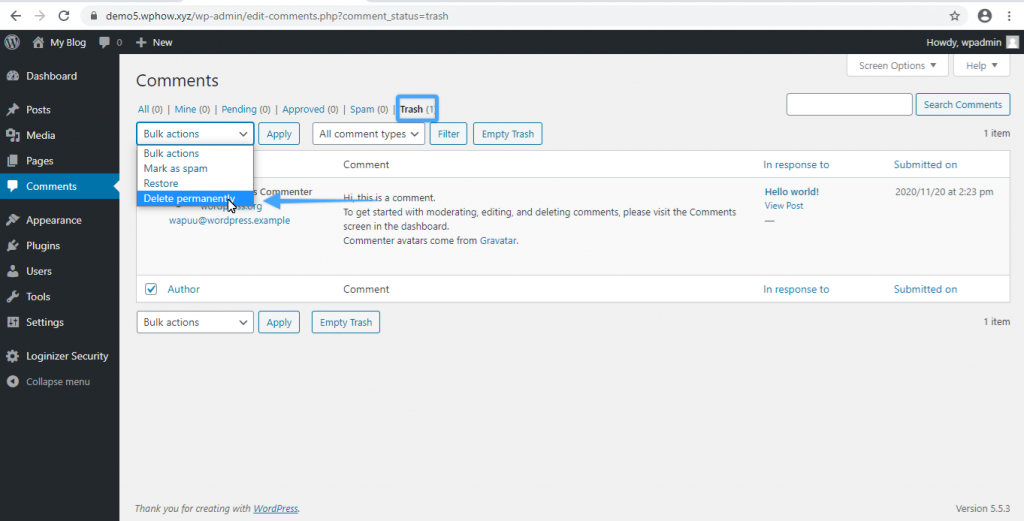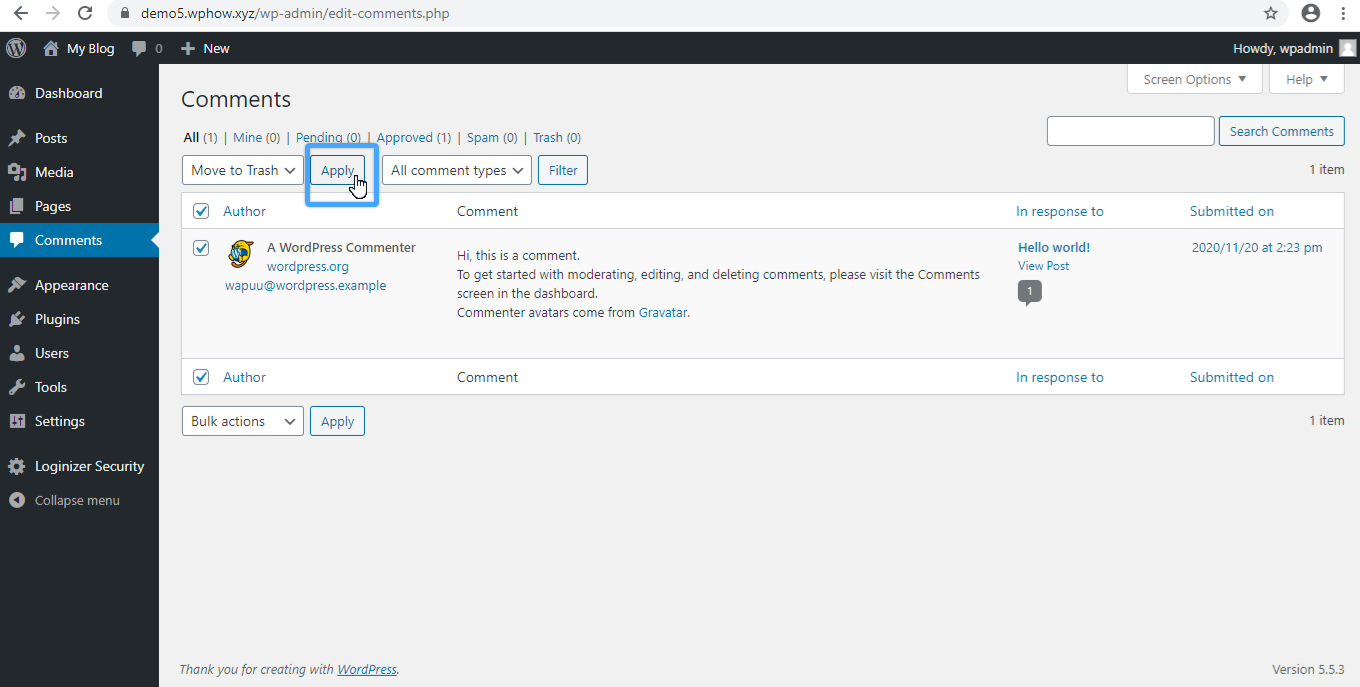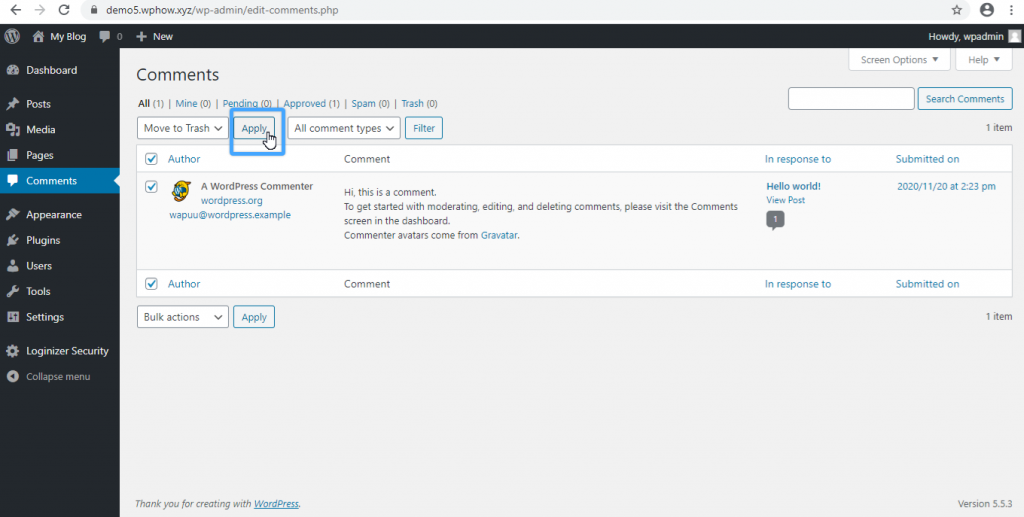 How To Deal With Spam Comments.
Comments are a great way for webmasters to build community and readership. Unfortunately, they're often abused by spammers who comment on unnecessary stuff on posts that may hamper the site's SEO. It's important to find ways to protect your website from this kind of malicious spam comment.
To shield, your site from spam comments, the following are the plugins that will protect your site from spam comments and malicious advertisements. Using this, you won't have to delete comments in WordPress manually.
1. Akismet Spam Protection
Akismet checks your comments and contact form submissions against their global database of spam to prevent your site from publishing malicious content. You can review the comment spam it catches on your blog's "Comments" admin screen.
2. Anti-Spam Bee
Anti-Spam Bee is an amazing plugin that will protect your site from spam comments without captchas and without sending personal information to third-party services.
Plugins to Bulk Delete Comments
Here are some Plugins, which will bulk delete comments in the WordPress site and will manage it with good efficiency and it'll help to save you valuable time.
1. Disable Comments
Disable Comments allows administrators to globally disable comments on any post type (posts, pages, attachments, etc.) so that these settings cannot be overridden for individual posts. It also removes all comment-related fields from edit and quick-edit screens.
2. WP Bulk Delete
WP Bulk Delete is a WordPress Plugin that allows you to delete posts, pages, comments, attachments, users, taxonomy terms, and meta fields in bulk based on different powerful filters and conditions. WP bulk delete helps in finding and mass deleting unnecessary data cleanup. These are the 2 plugins that will bulk delete all the comments from your websites.
Wrapping Up
That's it for this blog. Here, in this blog, we hope this article helped you learn how to easily delete all comments in WordPress. We have mentioned different methods to disable comments from posts, bulk deletes all comments, and how to shield your website from spam comments.
If you like this blog, also read our expert's pick on How To Add Custom CSS WordPress Code easily On WordPress ? (3 methods) and How to import and export WordPress users in an easy way? (Exporting WordPress users within 5 minutes)
Stuck Somewhere?
Connect With
JustHyre
Hire WordPress Engineers for custom jobs like Website Customization, SEO Optimization, Clearing a Hacked Website, Installation & Configuration & more.
Connnect with JustHyre