How to Learn WordPress for Free in a Week?
WordPress is no doubt the biggest CMS and learning it can be a game changer for you. Here, in this blog, we have shown you how you can learn WordPress in a week or less.
WordPress is an open-source platform with tons of features and with WordPress, you can make any type of website. You just need some time and interest to learn WordPress as it is not very tough to configure it. The Internet has thousands of videos, courses, and blogs on WordPress tutorials. You can easily access them and learn WordPress in a week or less but the expertise will come with time and practice only.
Here, in this blog, we have shown you how you can learn WordPress in a week or less. But before that let's look at why should you learn WordPress.
Why Should You Learn WordPress?
WordPress is not just a blogging platform, it is the world's most extensive content management system (CMS). It gives flexibility to all technical and non-technical people to create any type of website. WordPress is loaded with unique features and has a super supportive community.
Here are the top reasons why you should learn WordPress.
1. Easier to use
WordPress is very easy to learn and use, which is one of the reasons why it has become so popular with amazing people. Today, around 40% of online websites are built on WordPress. Even the helpful learning community makes it much more smooth to learn the process.
Also, WordPress is completely free and open-source software. Doesn't matter if you are a noob or a pro in the world of CMS, learning WordPress can be a real game-changer.
2. It offers flexibility
Apart from being easy to use, WordPress offers flexibility to its users by enabling them to create websites with relatively zero coding experience. You can easily make changes to your website with just a few clicks. With the help of super useful themes and plugins, you can change the look and feel of your website without breaking a sweat.
Features like surveys, news tickers, appointment booking and more can be easily added to your website. And if you are a technical person and know how to code, then you can edit your plugin's PHP file to make it more customized. Or you can even make a plugin of your own. 
3. It is SEO-friendly
When a business or a website is search engine optimized, it becomes much easier for them to capture more leads and convert them into paying customers. Creating a website won't be enough for any business to gain traffic. You will need to learn how you can optimize your website and make your product list on the first SERPs.
With WordPress, it becomes much easier to optimize websites and have good SEO. there are tons of good SEO plugins that can help you improve your website's visibility. 
4. Helpful and optimized plugins
Another big reason to learn WordPress is the plugins and features. The plugin helps you save time on coding and gives you the power to customize it according to your preference with zero code. You can even add complicated functionality to your sites like e-commerce stores, social sharing, affiliate marketing, and more. 
5. Supports multimedia types
With WordPress, it becomes much easier to integrate video, images, buttons, audio, and other media types into a website. It also allows you to hyperlink documents and files, which helps you store data on the site and makes it more attractive. WordPress also supports over 100 languages, which is a part of its localization and globalization efforts.
Day 1: Getting Started With WordPress
First, you will need to understand the difference between WordPress.com and WordPress.org. If you are a personal blogger and don't want to create money from your website, then you should opt for WordPress.com. WordPress.org is a self-hosted platform for businesses and bloggers who wants to make money from their website. You will also need to understand the basics of WordPress, its structure, controls, and overall functionality.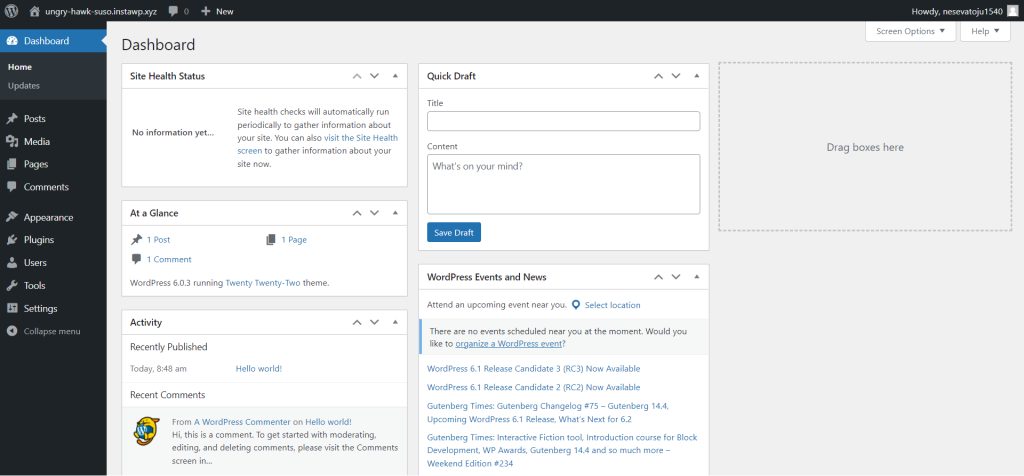 Once you are done choosing your platform, you will need to choose your domain name and web hosting. A domain name is the website URL address ( ours is wpHow.co) and web hosting is where all your files will be stored and your users can view your site. Choose a web hosting company wisely because it will help you establish your online presence and create a good first impression. 
It is very easy to install WordPress and most web hosting providers offer one-click installation. Read 10 Easy Steps to Build a WordPress Site for more details on setting up WordPress!
If you just want to learn and create a test site, you can try using WordPress Sandbox Instawp. It helps you create free temporary sites. It will help you launch the website within a minute and you can start learning the website. It takes care of the domains and servers.
Day 2: Learning WordPress Basics
Once you install WordPress you will reach the WordPress dashboard. Now, you will need to familiarize yourself with the interface and its functionality. 
First, you will see a sidebar on the left side with lots of options. As you start working, you will eventually get familiarized with each one of them. Now, you will need to introduce yourself to the WordPress block editor as here you will spend most of your time. 
Go around and explore how you can edit a post, publish a page, add meta tags, add categories, and more. By the end of the day, you will get a good grasp of your admin area and will probably know the basics of publishing pages and posts.
Day 3: Exploring Plugins
The superpower of WordPress is its plugins. With the plugins, it becomes much easier to add contact forms, create a WooCommerce store, add a newsletter, and more. There are tons of useful plugins that can make your work a lot easier and quicker. 
Go to the "Plugins" in the WordPress sidebar and you can explore them. As a beginner, you should have some important plugins. Here is the list of essential WordPress plugins that you should have for your website. You can try some of the below-mentioned plugins
Also, don't forget to take a backup of your data. Even a minor error can lead your site to crash and delete all your hard work. Backup is important to protect your website from server crashes and website hacking. You can read our detailed guide on how to back up a WordPress website for more information. 
Day 4: Exploring WordPress Themes
This is one of the most important parts because themes control how your website looks. WordPress has tons of beautiful free and premium themes for various niches. You can easily install those pre-made templates and customize them according to your design preferences. 
Themes let you edit the data in just a few clicks and without any code. Many of them offer your drag-and-drop feature to make it even more simple. Your theme should be a balance of beautiful designs and powerful features.
Once you find a perfect theme for your website, install it on your website. You can try some of the below-mentioned themes
Day 5: Customizing WordPress
Now, it's time to customize your website in WordPress. First, figure out what you want on your website and then start learning about it. For example, if you want to add a quiz to your website, then you should first know about good WordPress quiz plugins, then figure out if the plugin will work for you or not, and lastly, set up the quiz using the plugin. 
Every website needs different customization. Play around and you will find various new options that can help you build the website and learn WordPress more. You can also connect to the WordPress community for more doubts. 
Wrapping Things Up
And that's it for this blog. We hope this blog has helped you learn WordPress. In a week, you will be familiarized with the software, but to get the expertise, you will need time to practice. Play around, and research for good blogs and video tutorials, and you will know it better. We suggest you try InstaWp, a free WordPress temporary site platform that lets you learn WordPress for free.
If you like reading this blog, also read How to Add a Calculator in WordPress? (5 Easy Steps) and How to Add a Pros and Cons Table in WordPress? (3 Easy Steps).
Stuck Somewhere?
Connect With
JustHyre
Hire WordPress Engineers for custom jobs like Website Customization, SEO Optimization, Clearing a Hacked Website, Installation & Configuration & more.
Connnect with JustHyre