How to Master Email Marketing in WordPress? (5 Simple Steps)
Want to unlock the power of email marketing in WordPress?
Emails are unwavering. Despite being one of the oldest forms of digital communications, email marketing is one of the most effective ways to grow business.
Emails help you grow your business by communicating on a personal level. Email marketing is a form of marketing that can help you make your users aware of new products, discounts, and other services. It also helps you educate your audience on the value of your brand or keep them engaged between purchases.
Here, in this guide, we will show you how you can set up an email campaign in WordPress. But before that let's have a look on what are the benefits of email marketing.
Benefits of Email Marketing In WordPress
1. Cost-Effective
Email marketing in WordPress is the most effective form of a digital marketing strategy. It is cheap in terms of advertisements and printed media. It helps in communicating with many people at nominal costs making it good for small enterprises and new companies because of their low budget.
2. Targeted Communication
Email Marketing in WordPress allows you to segment your subscribers according to their demographic attributes, and different messages can be sent out to each group of subscribers. It means that you can tailor your message for every individual subscriber according to their likes, interests, as well as actions they are inclined to take hence the higher probability of them being involved.
3. High ROI (Return on Investment)
The most effective means of digital advertising across the world is through email marketing. As a rule, email marketing yields better results than industry norms. A good email marketing in WordPress approach will be able to increase new customer acquisition, sales growth, as well as customer satisfaction with returns that exceed investments.
4. Easy to Track and Measure
The email marketing platforms offer comprehensive analytical and reporting functions. Open rates, click-through rates, conversion rates, and other metrics may be used as indicators of email campaign success. Through this information, you can make informed decisions toward enhancing your marketing effectiveness.
5. Increased Engagement and Conversion
Direct and personal, email marketing, therefore, can be considered an active communication channel. Done properly, it attracts customers to make a purchase, join a webinar, or download the e-resource. Crafted email marketing gives you more converts and loyalists who can also become brand advocates.
How to Run an Email Campaign With a WordPress Dashboard
Here, in this guide, we will be using MailPoet to run an email campaign. It is a feature-rich and the most polished email marketing plugin in WordPress. 
Step 1: Install and Activate Mailpoet Plugin for Email Marketing in WordPress
The very first step to set up email marketing in WordPress is to install and activate the MailPoet plugin. For that, log into your WordPress account and navigate Plugins > Add New. In the search bar, search for 'MailPoet'. Install and activate the plugin. 
Once done with installation and activation, you will see the plugin's configuration wizard pop up. Configure it and fill in the necessary data. Once you log in to MailPoet, you will find the Activation Key which you will need to paste on your WordPress.
It will take a few seconds to validate your email address and you will be all ready to set up email marketing in WordPress.
Step 2: Place a Signup Form on Your Website
The next step of setting up email marketing in WordPress is to collect users' email addresses. You can collect emails by putting a signup form on your website. MailPort makes it very easy for you to set up a signup form. You can use built-in widgets or embedding forms within the website's page or posts. 
Adding signup forms in posts and pages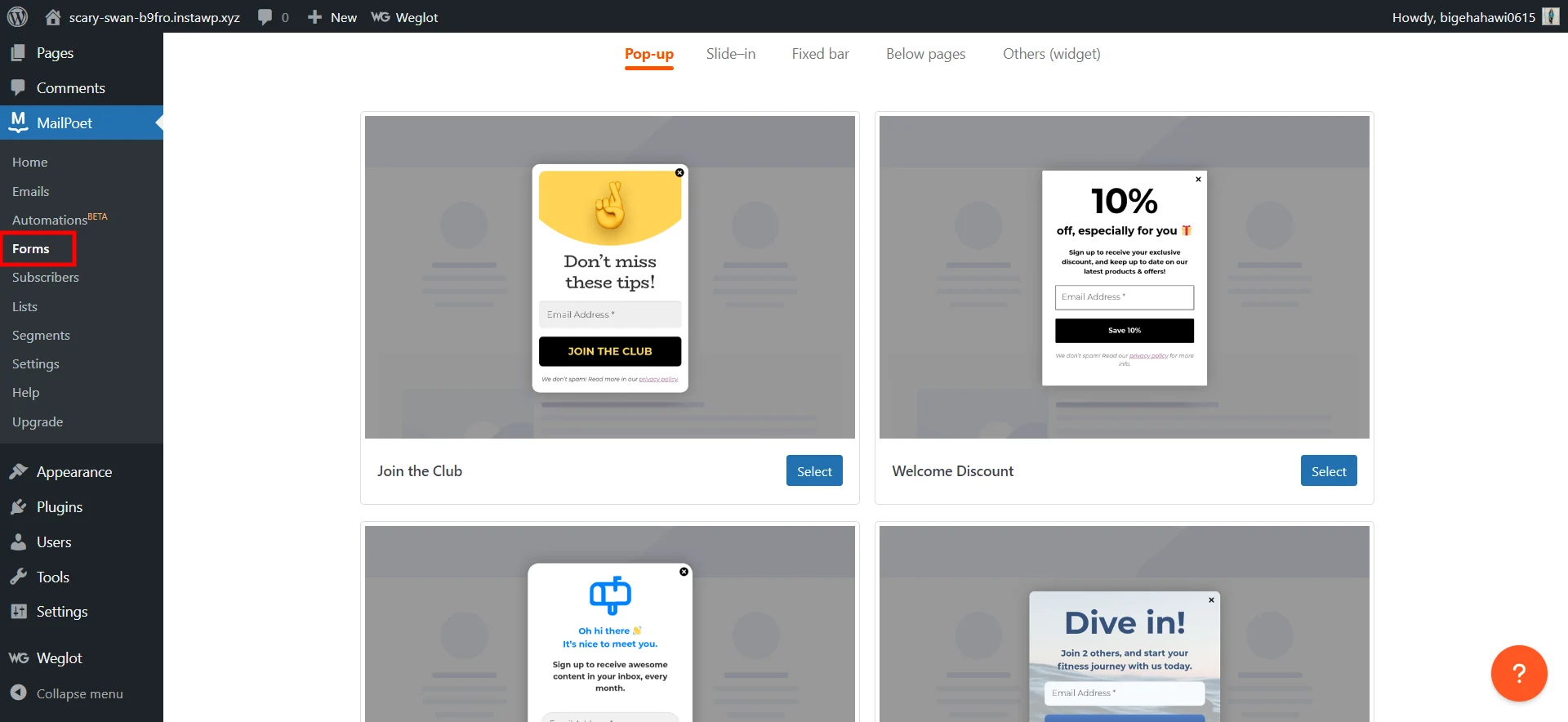 Navigate MailPoet > Forms in your WordPress dashboard.
Decide whether you want the existing form template, create a new form from the layout, or create a new form from scratch.
Customize the template using the editor panel on the right side of the interface.
Once done with the design, click on the 'Settings' icon to specify which pages, pots, or product listings will display the form. You can display the form across all pages or limit it to the selected ones. You can also select the posts with certain categories or tags.
Step 3: Configure Confirmation Emails
Follow these steps to configure your email subscription confirmation email:
In your WordPress dashboard, navigate to MailPoet > Settings > Signup Confirmation.
Make your confirmation email unique by customizing the default email.
You can select this option if you like a more visual confirmation email. You may design your membership confirmation template with a visual confirmation email, which will be delivered to your subscribers by email and will be more engaging than a plain text message.
Step 4: Configure Your Sending Options
MailPoet offers you three primary choices for sending services: mailPoet's built-in option, your website server, or a third-party SMTP provider. We suggest you use MailPoet's own sending service as it is the easiest to use. If you wish to configure a third-party SMTP provider to send emails, you will need four things:
Provider's Hostname
Login Name
Password
The right SMTP port number
Step 5: Create Your First EmailcCampaign Email
Once you are ready with the list of your subscribers and have decided on your sending options, you will be ready to set up the first email campaign on WordPress. Navigate MailPoet > Emails on your WordPress dashboard. Select the type of email you want to send like a Newsletter, Welcome email, Post notifications, and re-engagement emails. 
For instance, if you wish to send welcome emails, select the 'Welcome Emails' tab and click on 'Set Up'. Now select when you wish to send the email and to whom you want to send the email.
Select the layout that you wish to edit. MailPoet enables you to edit the email using a simple drag-and-drop editor. You can include various types of text, titles, images, and more from the icons. There are various options available to customize the emails.
Once done with customizing your newsletter, click on Next and customize the subject line, schedule your email, select subscriber lists, and add reply-to emails.
After you pick the date, don't forget to click on the Schedule button at the bottom of the page and your very first email campaign in WordPress is ready to go!
Want to create a Gravatar for WordPress? Read, How to create a Gravatar for WordPress?( A Simplified Guide)
How to Choose the Best Email Marketing Plugin?
1. Identify Your Needs and Goals
Determine if you have to build a mailing list, compose newsletters, generate auto-responded email series, or operate retail email marketing campaigns. The type of features needed depends on your special goals, which you have.
2. Compatibility and Updates
Check that the selected email marketing plugin supports the current WordPress edition. Search for plugins with a record of frequent updates over time, suggesting continuous support.
3. Integration with Email Services
Ensure that the plugin fits well with the email marketing provider you prefer, say, MailChimp, AWeber, or Constant Contact. It should provide smooth synchronization of subscribers' lists and campaigns, at ease.
4. User-Friendliness
Consider selecting a plugin with a convenient and straightforward UI. It will also be helpful especially if you are unfamiliar with Email marketing. This will simplify setup and campaign management among other things.
5. Feature Set
Determine the types/characteristics of other plugins. You should go for systems that have personalized email templates, automation capacities, analysis, and report features as well as subscriber divisions. You are likely to gain greater control in your email campaigns when the better the features offered.
6. Template Design and Responsiveness
Evaluate the standard and scope of email templates afforded by the website. An essential aspect in this regard is to make sure that your emails appear professional and work seamlessly on different devices such as smartphones and tablets through responsive design.
7. List Building and Management
Make sure the plugin has list-building options, such as customizable opt-in forms, confirmations on subscription for double opt-in, and powerful list segmentation functionalities. List management is key when it comes to effective and effective email campaigns.
Looking for an easy way to import and export WordPress users? Read, How To Import and Export WordPress Users in an Easy Way? (Exporting WordPress Users Within 5 Minutes)
Top Email Marketing Plugins
1. MailPoet
MailPoet is one of the best tools for email marketing in WordPress. With MailPoet you can create amazing signup forms to gain more email subscribers. MailPoet powers you with amazing email templates that you can extensively customize to align with your company's branding. 
Key Features:
Various email templates are available like newsletters, welcome emails, and more.
Captures inactive subscribers
Templates for WordPress signup forms
WooCommerce email customizers like abandoned cart mail purchased this product and more.
SMTP for WordPress
2. SendInBlue
SendinBlue is an email marketing and automation platform that offers a dedicated email marketing plugin for WordPress. It is popular for its user-friendly interface and amazing features. Apart from email marketing, it offers services like free Customer Relationship Management (CRM) tools to keep track of leads and sign-up form builders. 
Key features:
Drag-and-drop email builder
Email automation builder to automate the emails
Email marketing campaigns and broadcasts
Contact management and social media marketing
Final Words
If you have been ignoring your email marketing or putting your strategy on autopilot, it's time to step up your game.
Email marketing can prove to be one of the best sources of marketing if done correctly. Email marketing allows you to nurture customer relationships through personalized messages. It can play an important role in your marketing strategy with lead generation, brand awareness, building relationships, or keeping customers engaged between purchases through different types of marketing emails.
We hope this blog has helped you gain more knowledge about email marketing in WordPress. If you like reading this blog, also read our detailed guide on How to Create a Survey in WordPress? (6 Easy Steps) and How to Setup WordPress Multisite Domain Mapping? (4 Easy Steps)
Stuck Somewhere?
Connect With
JustHyre
Hire WordPress Engineers for custom jobs like Website Customization, SEO Optimization, Clearing a Hacked Website, Installation & Configuration & more.
Connnect with JustHyre