How to Create a Free Business Email Address in 5 Minutes?
Looking for a way to create a professional email address for free?
A professional email address is a must-have for any type of business, regardless of its size. Unlike a personal email address, the business email address is more memorable and it makes it easy for customers to recall your brand. Also, the best business email service providers offer enhanced security features to help you safeguard your accounts.
Here, in this blog, we have shown you two simple methods with which you can create free business email addresses. But before that. Let's have a look at what is a business email address and what are the popular ways to format it.
Key Takeaways
Business email addresses consist of your brand name and it helps in marketing your business.
Different ways to format email addresses.
Method 1: Using Bluehost
Method 2: Using Gmail and cPanel
What Is the Business Email Address?
A business email address is simply an email address explicitly used by your business and contains the company's business name through a domain. Your business email address should be a branded email address to appear professional and credible. In addition, it helps users remember your brand name and builds brand awareness.
Here is why you should use a professional business email address:
Appears professional: A professional business email address makes your company look legit.
Increase brand awareness: A professional business email address includes your brand name which helps in marketing as well. 
Build loyalty: A professional business email address conveys integrity and reliability to the customers. 
Popular Ways to Format Email Address Usernames
There are several ways to format business email addresses.
Method 1: Create a Business Email Address Using Bluehost
Bluehost is one of the best hosting services in the market. It is super affordable and offers you free custom email addresses at your own domain with any hosting package. Also, Bluehost offers free domain names with all new signups.
Step 1: Choose a Bluehost Plan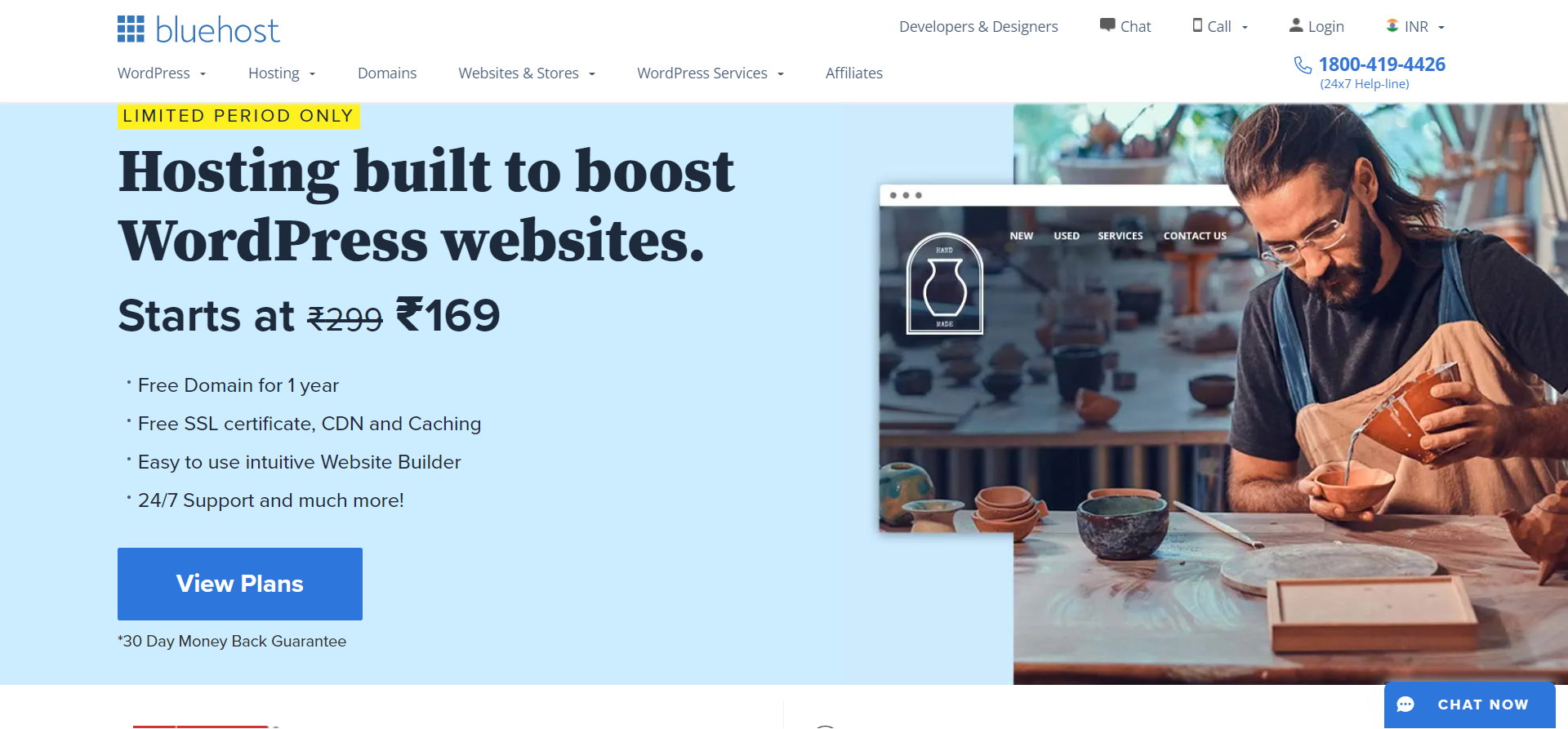 The very first step to creating a business email address is to choose a hosting plan for the new domain. Go to the "Bluehost" and click on the "Get Started Now" button. Out of the four hosting plans, choose the one that meets your requirements.
Once done selecting the hosting plan, click on "Select" under the plan you want and then register your free domain.
Step 2: Choose your free domain
As mentioned above, a free domain name comes with your hosting. Now, the domain name of your choice will appear on your free business email address.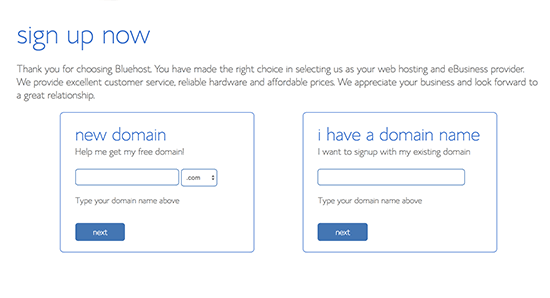 Type your business name in the search field to search for the domain name. Choose the domain name that suits you and then get onto the next step which is creating your account. You will have to provide your billing information here and submit the form.
And there your hosting account will be created. You will also receive a welcome email from Bluehost with the login credentials.
Step 3: Create your Free business email address at Bluehost
Now, log in to your brand new Bluehost account Cpanel and click on Email and Office. Navigate to the Domain >> Manage. Hit the "Create" button to make your first business email account.
Now, Bluehost will ask you to choose a username and password. Next, click on "Generate" to create a unique, strong password for your email account. Make sure you have a strong password to protect your email against hackers.
Further, you set a storage limit for your email account as well. After doing all the necessary customizations, scroll down and hit the "Save" button.
Congratulations! You have just created your very first professional business email address for your business. If you wish to create more such accounts, just repeat the above-mentioned steps.
Step 4: Access your email account at Bluehost
The next very important step is to access the brand-new email account so that you can check and send emails to customers and other businesses.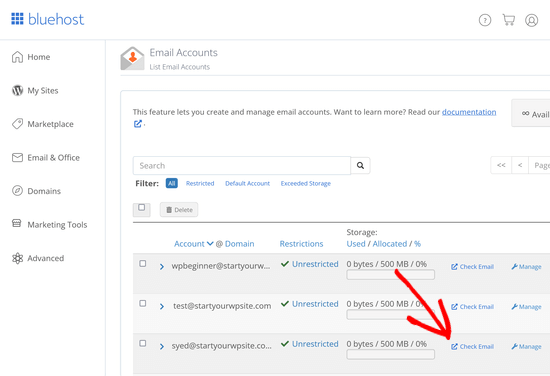 For that, click on "Check Email". Now, you will need to have a default webmail application and if you don't have one, Bluehost will ask you to choose one. Next, click on "Open" to open your webmail.
You can also connect your free business email address from your mobile phone. Further, you can find the instructions on the right-hand side to get set up.
Method 2: Create a Business Email Address With Gmail and Cpanel
Step 1: Create a business email account in cPanel
Firstly, go to the cPanel for hosting and right-click on the email account section. Then you will have to enter the name of the email.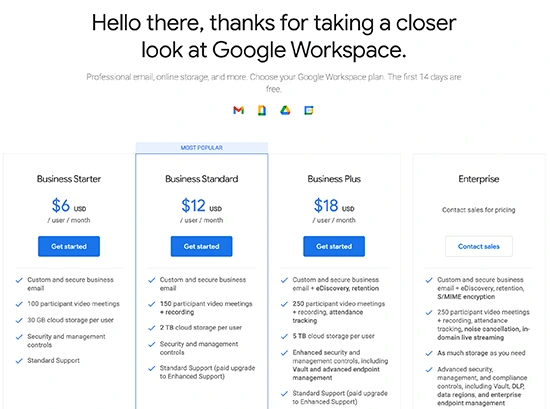 Further, you will have to create a password for the email. Create a strong password for safety reasons. Now, in the Mailbox Quota box, set the mail capacity. Then click on Create Account and there your business email account will be created.
Step 2: Add Forwarders from the webmail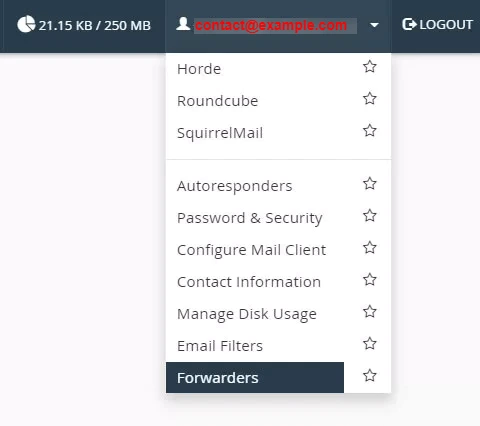 Click on Forwarders, on the top of Webmail, to add a new account. Add the account to the cPanel, paste it in the destination field, and click on "Add Forwarder", so that emails that come to the account you created are automatically forwarded. 
Step 3: Check cPanel business email sync with the email
Try to send an email from your personal account to the account you just created to see if the emails are coming to the Gmail destination. This step is necessary to ensure that you have both emails correctly linked.
Bottom Line
A business email address is an email address that uses your own business domain name and is essential for your domain name. A business email address looks more professional than a Gmail or Hotmail address. It makes it super easy to remember your brand name and build trust.
We hope this article has helped you create your business email address. If you like reading this blog, also read How to Choose the Best Blogging Platform? (3 Minutes Read) and How To Edit WordPress Template Files? 3 Easy Methods.
Stuck Somewhere?
Connect With
JustHyre
Hire WordPress Engineers for custom jobs like Website Customization, SEO Optimization, Clearing a Hacked Website, Installation & Configuration & more.
Connnect with JustHyre